The SEO Google Rank Tracker your business needs
TrueRanker is the most accurate and reliable SEO Google Rank Tracker for keyword rankings.
Our powerful and advanced tool allows you to analyze + check by country, province or city and monitor the real rankings of your projects on Google search engine. Discover new SEO keywords that you had not detected and improve visibility + organic traffic from the search engines.
40,000+ users already trust TrueRanker:
How TrueRanker SEO tool works
TrueRanker is the Google Rank Tracker that thousands of websites, startups and companies around the world already work with.
Using our Rank Tracking tool to check positions in Google and other search engines is very simple. Add project (you can monitor a single domain, a domain with its subdomains, a specific subdirectory, a unique URL or a Google Chrome Extension) and start monitoring the evolution of your SEO strategy.
Choose the city, province or country to have more detailed data on how Local or national / international SEO strategy is working according to your project. You can also choose the type of device on which you want to know the search positions in Google: Desktop, mobile or both at the same time.
Find out your competitors for each sector and each keyword and study what SEO strategy they are carrying out. Use keyword suggestions and discover opportunities you were missing. Monitor the evolution of your project thanks to our web visibility index.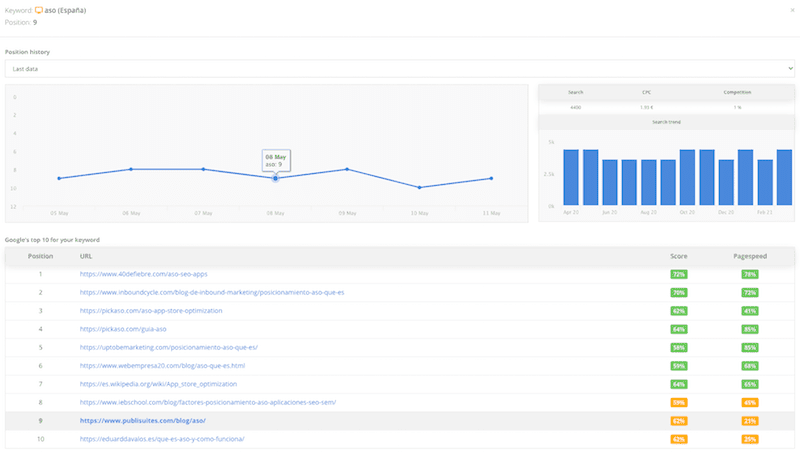 Much more than a Google Rank Checker for keywords rankings
TrueRanker is not just any Rank Tracker or Checker. Analyze your positions anywhere in the world, detect cannibalisations, get suggestions for keywords that you had not detected and much, much more:
Update the rankings in Google of your keywords automatically or manually (on-demand) at any time. Your keywords and your business always under control with the best Rank Tracker.
Our tool shows for which keywords your website is positioning in multiple countries, so you can track them. Don't miss out on opportunities to grow organic traffic.
Are 2 or more URLs of your website ranking for the same keyword? TrueRanker alerts you to correct cannibalization problems that can be harming your SEO.
Analyze the most important SEO factors of the URLs of your website and those of your competitors. Apply the suggested changes and improve your rankings, positioning and business.
Get the exact position in Google of your keywords by country, province and city. More than 40,000 locations at your entire disposal. TrueRanker is the local SEO Rank Tracker you were looking for.
Check your keywords data from our Rank Tracker on web, the TrueRanker mobile app on Google Play, or integrate our technology into your WordPress website.
What do our customers say?
With TrueRanker I organize and control the SEO of my Publisuites and Digital Content projects. Specifically to see the impact of SEO On Page changes and the links we create. It has become an essential tool for daily monitoring of the strategies we carry out in our projects ✌🏼.
I don't know how I have been able to live without TrueRanker all this time… TR has become my SEO rank tracker for daily use with which I monitor all my projects and all my Chrome extensions, which by the way cannot be done with any other tool. It is a wonderful tool and I recommend it to everyone.
Eating pizza on a Sunday night is fine, but being able to monitor your positions in different locations is something else. Now seriously, TrueRanker is a top tool that I use with clients and my own projects because what is not measured is not improved.
Why track the positions of your keywords?
The main objective of SEO is to generate traffic / visits to a website from search engines (Google, Bing, Yahoo, etc.) by positioning keywords in search results. The better positions the keywords of a project have, the more organic traffic you will get. IMPORTANT: more visits = more business.
That is why it is vitally important to monitor the positioning of the keywords of a project. This allows to know the trend of the project, to understand if the SEO strategy and tactics are working, or if a filter or penalty has been applied. In addition, for local businesses, being able to see the actual rankings by city or province is extremely important.
Still not monitoring your business on the Internet with our Rank Tracker?
Why use our Google Rank Checker?
We are not going to tell you that we know 100% how Google works, far from it. We would be lying, since no one knows exactly how the world's most used search engine works. However, we can tell you that the TrueRanker team has more than 15 years of experience in SEO and has managed websites with millions and millions of visits of organic traffic. TrueRanker is the Google Rank Checker that we always wanted to have, that helps us in our work every day and that you can use yourself to track your SEO performance, and grow organic traffic.
TrueRanker is an accurate and reliable SEO tool that allows you to monitor keywords on Google in more than 40,000 different locations (Desktop + Mobile) and discover new ones that you had not detected, analyze the On-Page and PageSpeed optimization of any URL on your website and have under control the visibility of your domain, among other things.
We love to experiment and design new and innovative tools related to search engine marketing, and now you can enjoy all of them.
TrueRanker is the Google Rankings Tracker you were looking for
TrueRanker tool helps hundreds of freelancers, startups, publishers and agencies keep track of their keyword positions on Google. This is the SEO Rank Tracker you need to get more web traffic for your project.
The TrueRanker team is constantly developing tools so that you can improve your visibility on the Internet and grow your business through the searches of your potential clients, search engines and SEO.
Give our Google Rank Checker a try, you can do it for FREE. SEO is, among others, about keywords, and TrueRanker can help with that.