Control the SEO visibility on Google in any town of your country.

TrueRanker allows you to monitor the positions of your keywords at a local level. Find out if your Google my Business listing appears in the local pack for the keywords you are interested in.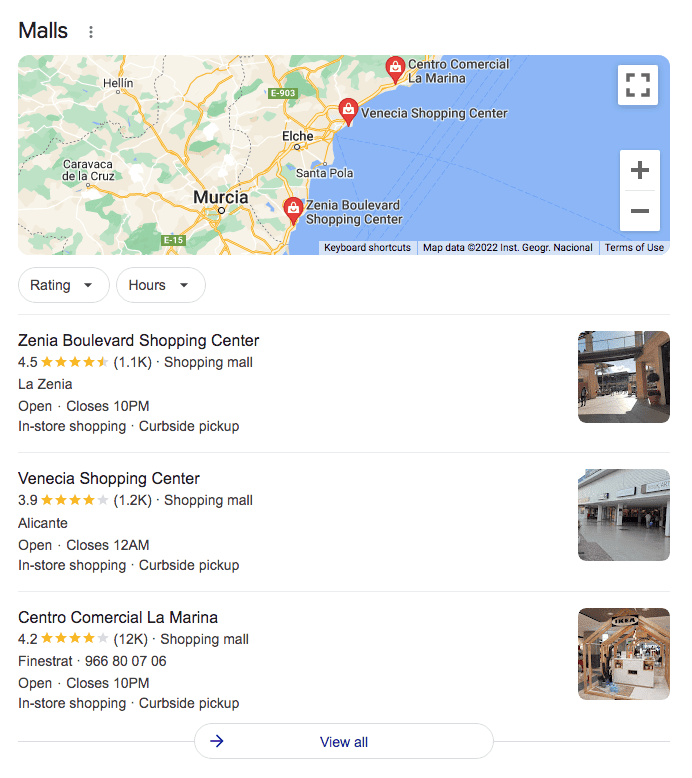 Local SEO rank tracking tool
Do you know if your website is positioning correctly in the city where you offer your services? Are you correctly focusing the Local SEO strategy to sell your products in the locations that interest you?
Is your Google My Business listing showing up in Google search results?
With TrueRanker you will have access to all the necessary information so that you can improve your Local SEO strategy thanks to our local rank tracker.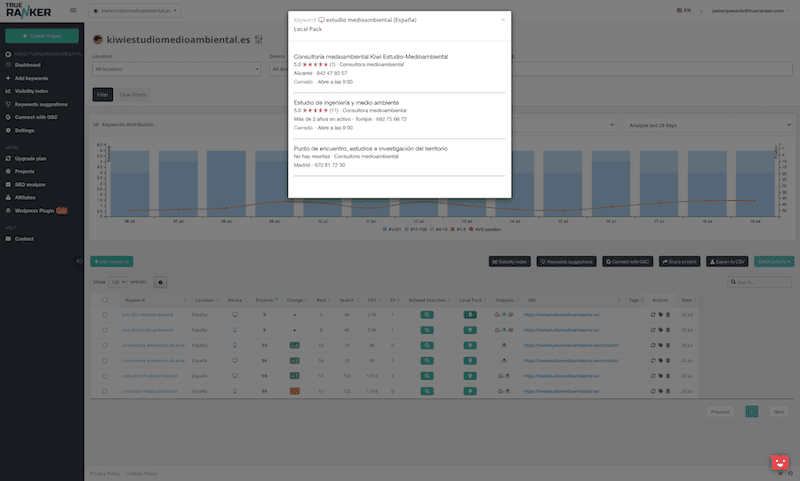 How does TrueRanker's Google local SEO rank checker work?
Controlling the positions of the keywords for which any local project ranks is very easy with TrueRanker.
1. Add a new project and enter the domain of your website.
2. Add to the project the keywords that you have worked on locally and enter as the location, the city or town in which you want to monitor local positions.
3. Done! Now you will be able to see the positions by which your local business ranks and its evolution over time. Easy peasy!
How does the TrueRanker Google local rank checker work?
2. Enter your exact name in GMB
4. Know your local positions
Start tracking your local SEO strategy​ NOW
Monitor your Google My Business listing
Find out if your Google My Business listing is well optimized and is giving you the results you are looking for.
Know who your SEO competition is at the local level and what businesses appear in the local pack of local searches on Google for your city and your niche.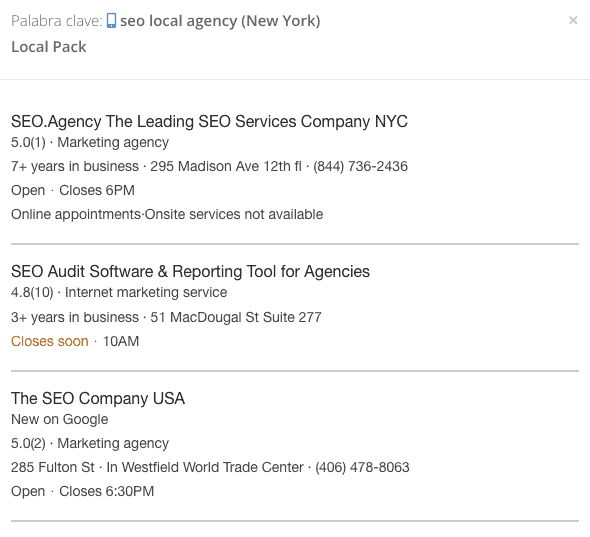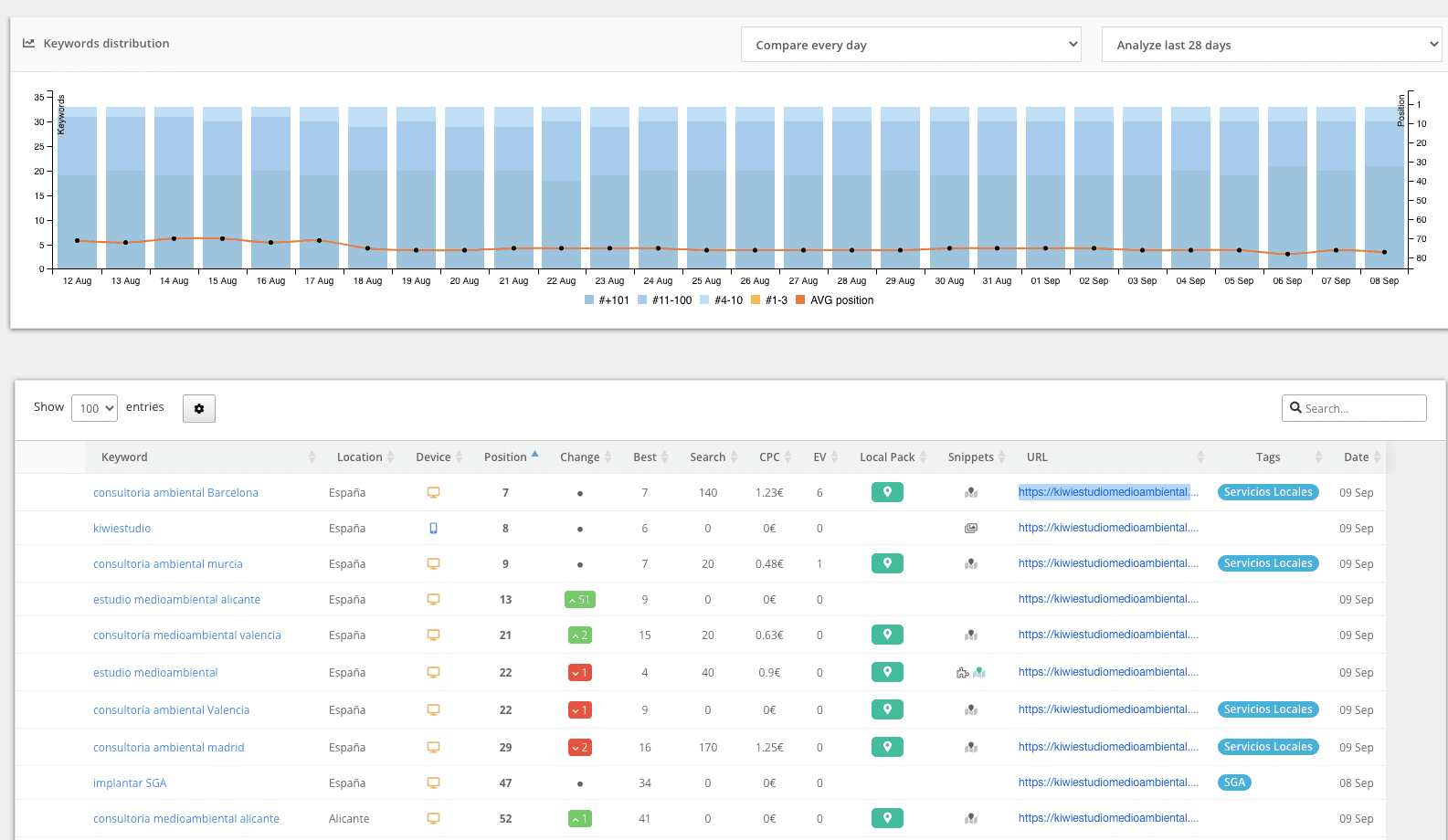 A local SEO tool for agencies
With TrueRanker you can monitor an infinity of local keywords thanks to our personalized plans for agencies.
No domain limit, you can create all the local projects you want.
Unlimited clients, you can share the project in real-time with the number of people you want.
Unlimited emails, send daily, weekly or monthly reports to the number of clients you need
What do our customers say?
With TrueRanker I organize and control the SEO of my Publisuites and Digital Content projects. Specifically to see the impact of SEO On Page changes and the links we create. It has become an essential tool for daily monitoring of the strategies we carry out in our projects ✌🏼.
I don't know how I have been able to live without TrueRanker all this time… TR has become my SEO rank tracker for daily use with which I monitor all my projects and all my Chrome extensions, which by the way cannot be done with any other tool. It is a wonderful tool and I recommend it to everyone.
Eating pizza on a Sunday night is fine, but being able to monitor your positions in different locations is something else. Now seriously, TrueRanker is a top tool that I use with clients and my own projects because what is not measured is not improved.
Great tool and very easy to use it.

Best tools for rank tracking and see many keyword for your website. It is very easy to use, Best UX and UI design. I very like funsion to get information form search console. It help agency to work easy.
5 Scoops Of Awesome....

I do have to tell you I've kissed a few frogs on my journey to find the perfect SEO rank tracking & monitoring tool to handle all my projects in over the years, and just as you think it's all over, Trueranker turn up out of the blue. TR has a clean UI, it's not overcomplicated, you can analyze your competition, results return effortlessly in double quick time, it really does make light work of this critically important function. Well done team, you've done a great job. BOOYAH!!!
5 tacos from me

I am not that technical but trueranker is not too complicated. So i am happy with this product. It seems straightforward and easy to use. Information provided good to read and understandable. A good choice to buy!
The Perfect Keyword Rank Checker

I was looking for the perfect keyword rank checker, the one that would allow me to monitor, optimize and improve my SEO strategy and I found TrueRanker, an SEO software that is a dream come true. With TrueRanker, you can easily track your rankings and monitor your competition. All you have to do is connect your Google Search Console and it will automatically add your keywords and you're good to go! The interface is easy to use and you can easily share the dashboard with your clients, making it a great way to manage your SEO strategy.
Excellent for competitor research

Have just started using the tool for competitor research. TR can also track rankings and generate on site SEO reports. I can see this totally replacing ahrefs for above purpose. Great going, keep up the good work!
Useful and immediate

I've been trying it for a while, I think the potential is high. Comparison with competitors is a very useful feature. The interface is quite intuitive.
TrueRanker is the perfect tool for staying on top of your SEO game

TrueRanker is the perfect tool for staying on top of your SEO game. With accurate keyword ranking data and competitor analysis, you can quickly track your progress and make necessary adjustments. The cannibalism check helps identify any unwanted traffic-stealing behavior, while the Sistrix-Rank gives you a snapshot of how well your website ranks against others. Keep your site's SEO performance in check with TrueRanker!
Better Rank Tracker than ahrefs!

We have started using TrueRanker for multiple of our websites and campaigns ( despite having ahrefs) and surprisingly found TrueRanker to be better and more accurate than ahrefs in terms of tracking daily rankings and reports. From now on TrueRanker is our go-to for ranking keyword rankings. It's just missing one feature which is Whitelabel reporting. if they implement that feature TrueRanker is going to become a perfect toolkit for this job!
Great for Client Use

I chose TrueRanker over some of the other, perhaps more full-featured, SEO tools, because of its client portal and email integration. I can bundle the SEO service as an incentive to my services and even resell keyword tracking to my clients, so it was a no-brainer for me.
Good SEO Tool

I found this solution very useful to find my rankings versus my local competitor for my business. It helps me to rectify and to boost the site ranked higher in google search. Thanks for bringing this lifetime deal to App sumo.
Simple and Easy to Use!

It is simple and easy to use! I was able to set up in 5 mins. The number of keywords is very generous. I have bought several rank tracking app here in appsumo but this is the one that I will be using.
I bought it to try it out but was pleasantly surprised.

Previously I was using a monthly paid tool for keyword tracking for my clients. But since I tried true ranker I am slowly migrating each of my clients to this tool. I love the mobile app as it allows me to quickly see results without always logging into my account. Very pleasant surprise.
Wonderful SEO Tool

I love this ranking software. It is so easy to use, and the customer service is great. I love that I can see the ranking of my website and my social media pages. I really like that this is a low-cost tool that allows me to rank my website and social media pages. This is a must-have for any marketer who wants to take their website and social media pages to the next level.
Beautiful Ranking Software

This is an amazing product! I have multiple rank tracking tools. Serpwatch. Nozzle, Brand Overflow. They're good...but they all have problems. Trueranker ain' that. It shines. It's easy peasy to use. It's beautiful. None of my other tools can say that. I'm so psyched to grab this tool as I'm freakin jacked about the roadmap and future updates for True Ranker.
Truly the Useful Ranker Application

When I am looking for a ranker, I am looking for one that will be able to improve my site's rankings. That is why I always turn to Trueranker. The service they provide is impeccable and the customer support is phenomenal. If you are looking for a ranker who can deliver, look no further than Trueranker! I can't recommend Trueranker enough! I was so frustrated with all the other rankers, because none of them seemed to get my rankings right. That's when I found Trueranker and it really the goto tool now. The app is super easy to use and all of its features are great.
Great Tool

TrueRanker is not the only tool that I use, but each tool offers slightly different options and reports, and this is a great addition, next others like Labrika and Screpy.
Excellent Rank Tracker

TrueRanker works really well and the interface is very easy to use. I really like that it tracks local keywords and that it has a built-in SEO analyzer which I found pretty useful. I love the look and the functionality of this rank tracker. The local feature also stands out among its competitors.
TrueRanker is the local SEO rank tracking tool you were looking for.