Take control of your SEO, improve your visibility and get more visits
Our tool helps you improve the web positioning of your digital businesses
Update the positions in Google of your keywords automatically or manually (on-demand) at any time. Your keywords and your business always under control with the best Rank Tracker.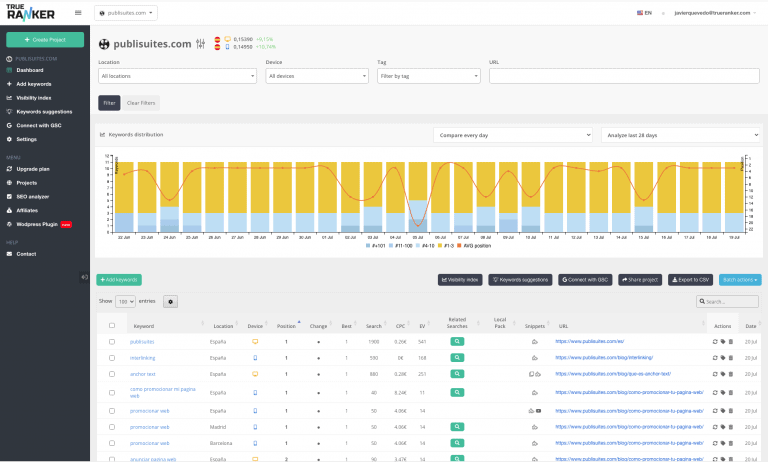 Have you carried out any specific action on any keyword on your website? Do you want to know how this change affects Google search results? Get updated data on all your keywords on a daily basis and analyze if your actions are paying off.
Get data like search volume, CPC, and estimated visits for keywords in your full location. In addition, we also offer you the data of your main competitors so that you can analyze what they are doing to compete with you. Obtain your daily position by differentiating if the device on which the search is carried out is a computer or a mobile.
Position and real data about your keywords
TrueRanker gives you real data on each of your keywords. We work with the data that Google gives us about the keywords to offer it in a simple way.
Monitor your position on Google daily and check with the position history if the strategy you use for each keyword is working.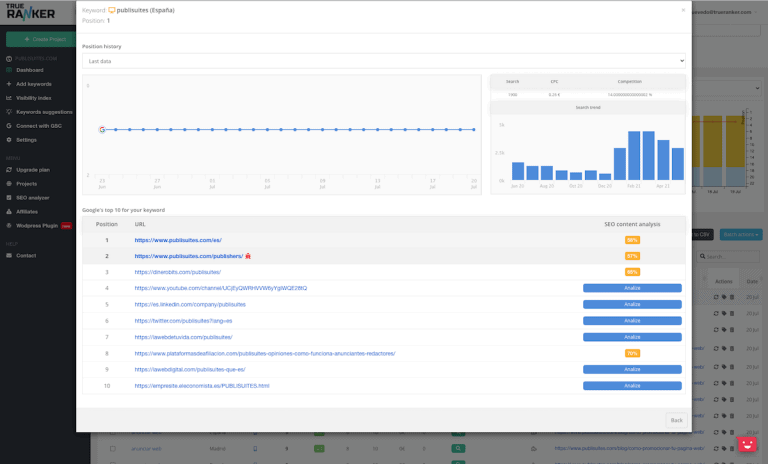 Find out about the search volume, the CPC, the level of competition, the trend over the last year and the main competitors.
Perform content analysis on your pages and those of your competitors and discover opportunities for improvement to rise in the Google ranking.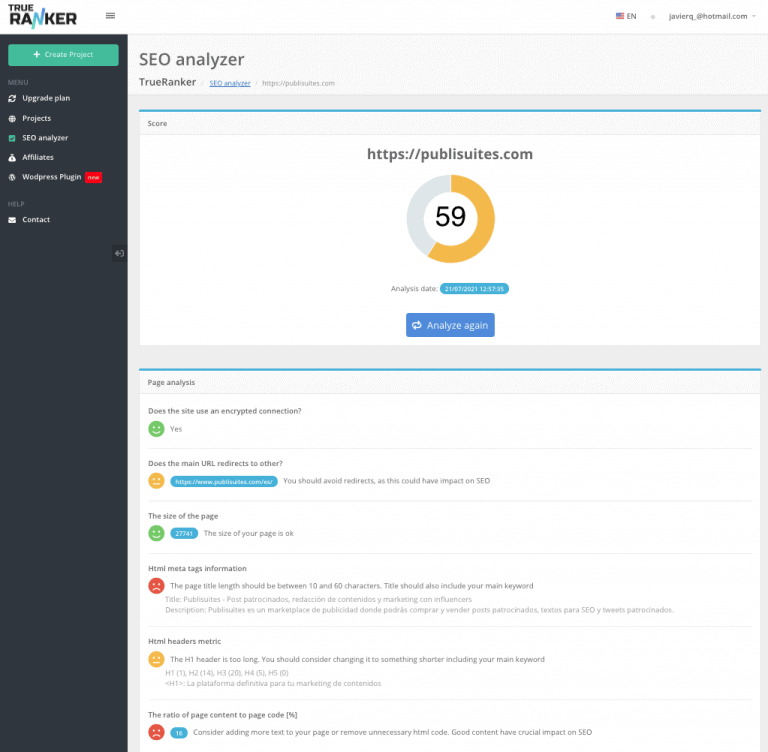 Related searches to the keywords of your project
We offer you a list of keywords that are searched by clients who are looking for the keywords that you have added to your project.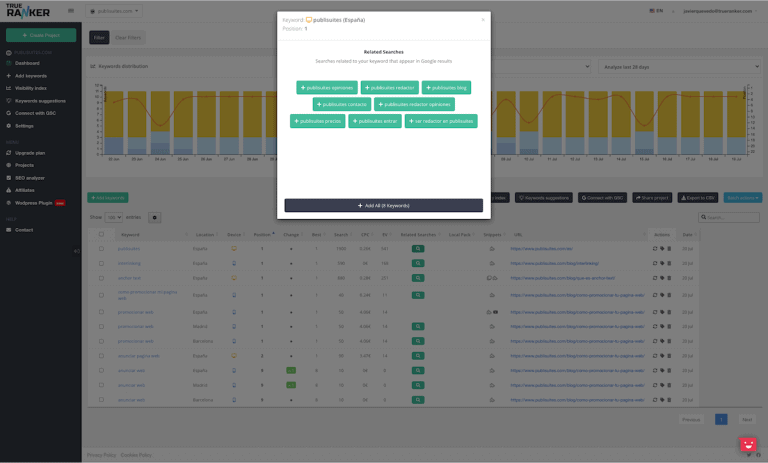 Thanks to this functionality, you will be able to discover new opportunities for your potential clients to find you.
Find out which local businesses are coming out of each search and compete with them locally.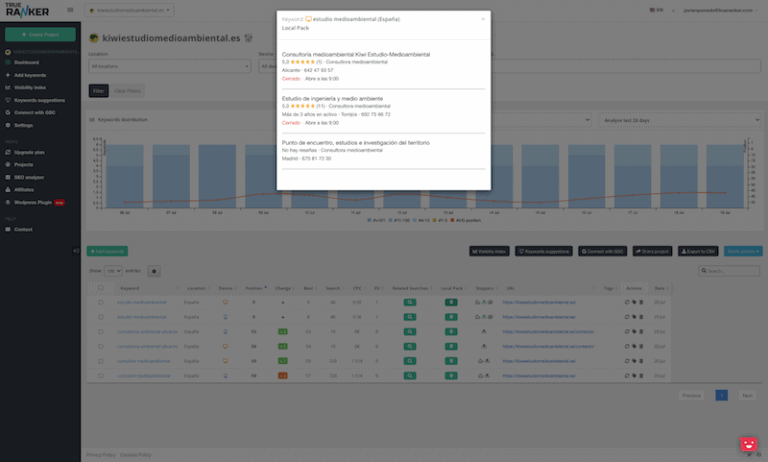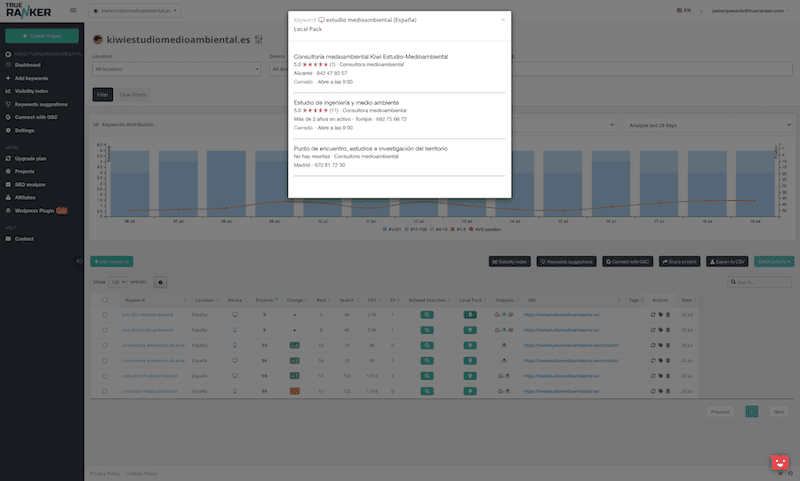 If your search responds to a "Go to Site" intent and Google returns local results, we collect that data daily for you.
Filtra tu proyecto como más te interese para ver cómo evoluciona cada segmento.Filter your project as you are most interested in to see how each segment evolves.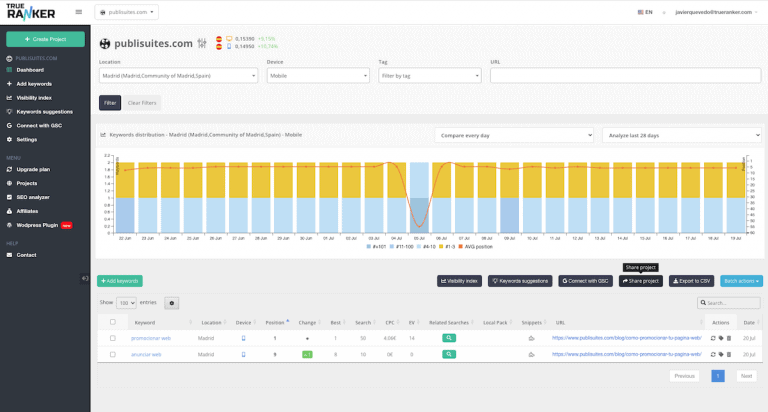 You can use the project filters to measure the data of a single cluster. See how your keywords behave by location, device, tag or URL.
SEO cannibalization detector
Discover possible URLs of the same project that are competing for the same keyword and are causing a possible problem in your strategy.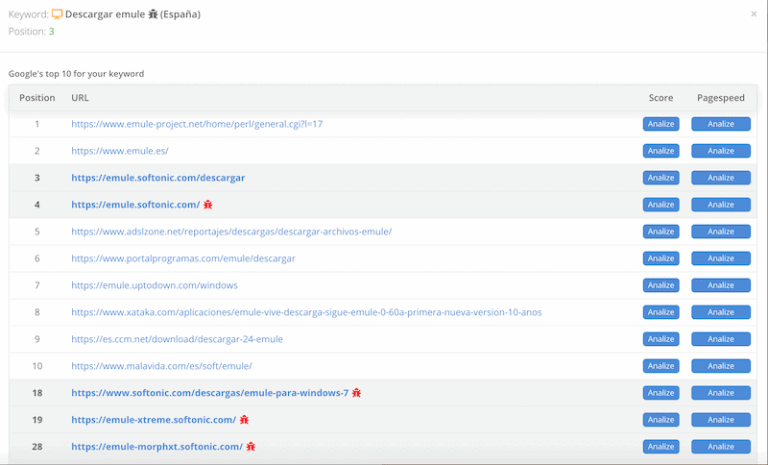 Are you sure that your blog pages are not attracting potential visits from your transactional pages? Find out if there are URLs of your project that are positioning for the same keyword in a certain location (Country or city) thanks to our cannibalization detector.
Integration with the Google Search Console API
Track the keywords your customers come to your business for. Integrate your TrueRanker project with your Google Search Console data and add the words that interest you most with a single click.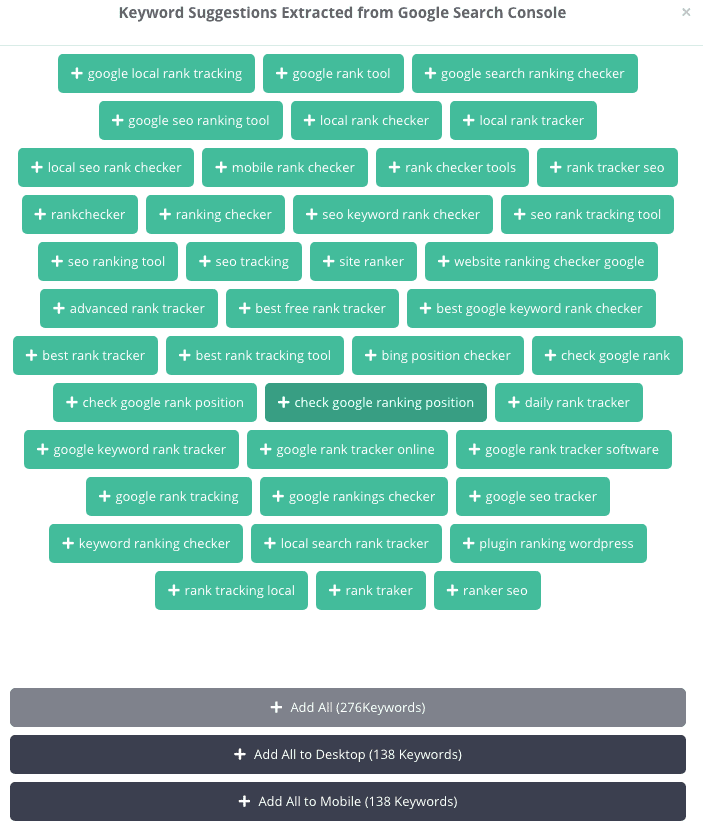 Get more data on the keywords that Google Search Console offers you. Daily real position, volume, related searches, etc.
Not sure where to start? You have no idea what keywords your project is already ranking for? Use our keyword suggestion tool and discover the keywords to monitor in your project.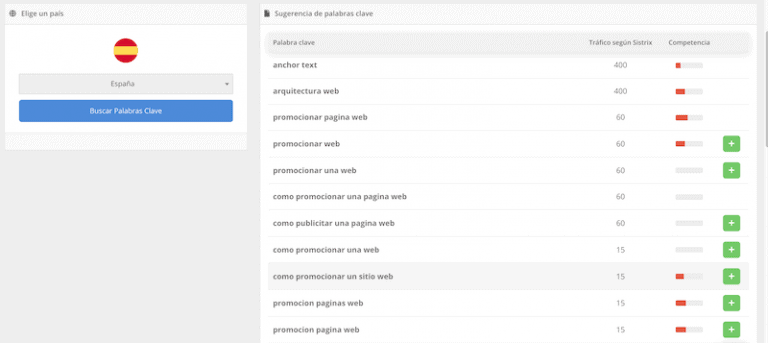 Find out if your project is already running in several countries and add the keywords that you think are important to your project to obtain daily data from them.
Analyze the monthly traffic that these words can bring you in each country before deciding if they are important for your SEO strategy.
Control the evolution of your project thanks to our visibility index available in more than 20 countries.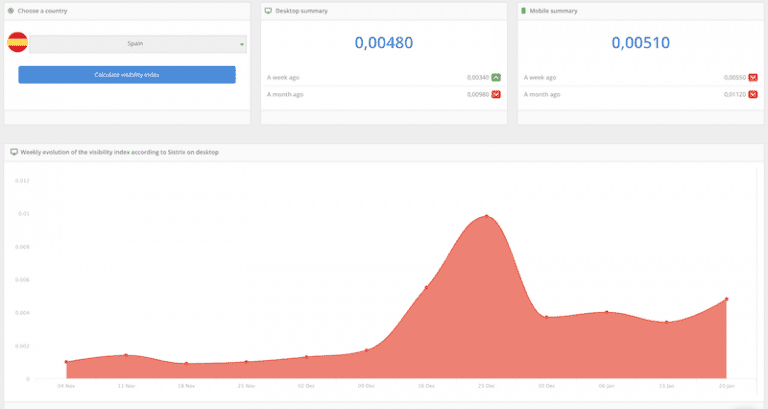 Monitor possible Google penalties in your project thanks to the visibility index. This value is calculated from all the keywords with which you are positioning in Google and their respective positions.
Different types of project
Do you want to monitor a single domain? Or do you prefer to get the data for that domain and all its subdomains? We offer you all the possible alternatives when monitoring a project.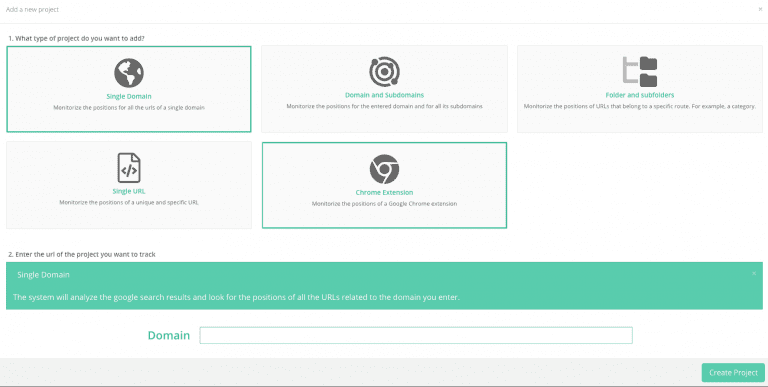 Choose the type of project that best suits your needs and the tool will monitor the data based on what you have selected.
Use TrueRanker on web, Android device or inside your WordPress: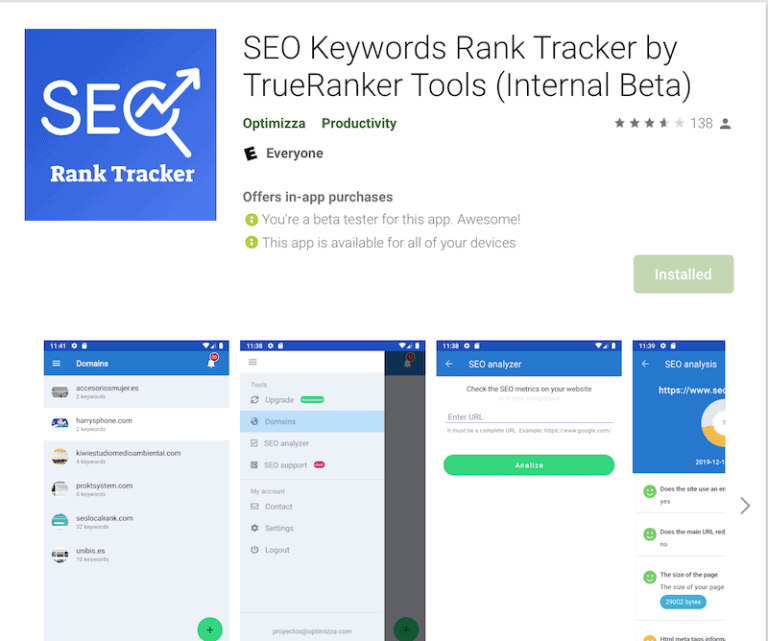 Keep track of all your projects using all the platforms at your disposal. You can download the True Ranker app from the Google Play Store and the WordPress plugin from the official WordPress plugin repository.
TrueRanker helps you improve the SEO of your website
TrueRanker helps hundreds of freelancers, startups, publishers and agencies keep track of their keyword positions on Google.
TrueRanker is the SEO Rank Tracker you need to get more web traffic for your project.