What is SEO? How can SEO help my business? What should I do to position my website?
On this page, you will find the answer to all these questions, everything related to SEO, and some guidelines to start ranking your website.
What is SEO?
SEO (Search Engine Optimization) is, as its acronym indicates, the optimization of a website for search engines. In this guide, we will focus on Google as a search engine, since it is the world's main search engine.
Appearing well ranked in a search engine like Google is the best way to get qualified (organic*) traffic to a website. Imagine if the keyword "night lamps" has a monthly search volume of 100,000, the CTR (percentage of people who see the result and click on it) the first result can be 25%, this would mean 25,000 visits per month, only for that keyword. That's how important SEO is.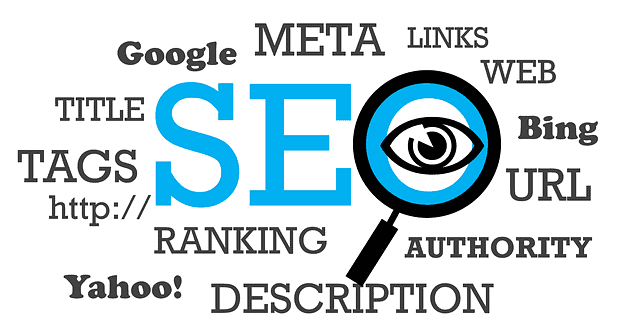 What is organic traffic?
Organic traffic is the visits you receive from Google for free. When someone searches for a keyword, your website appears in the search results and the user clicks to access it.
If you wanted to get 25,000 visits to your website with other techniques such as SEM (paid traffic) with Google Ads, for example, if the keyword "night lamps" has an estimated CPC (cost per click) of 0.16$, 25,000 x 0.16$ = 4,000$ per month it would cost you to get those 25,000 visits, which with SEO you can get organically and for free.
With this in mind, the main objective of SEO in Google is to appear in the first results of the search engine when someone searches for a specific keyword. And we say specifically because that word must make sense and be relevant to our business. It must "sell".
If you have a bike store, you want to be found by cyclists of different levels who are looking for information, who are looking for recommendations, and who want to buy. You are not interested in positioning yourself for another word totally unrelated to your business.
This seems obvious, but many websites use "drag SEO"; they publish thousands of random pieces of content, to get people in, even if they have nothing to do with what they do. We have seen pages that sold services to companies (b2b) publishing cooking recipes… and it wasn't a restaurant supplier.
The problem with doing that is that you are going to spend money on attracting users who are not interested in your business. In addition, you are going to create a multi-thematic page and it will cost you much more work to position it as a reference in your sector, both in terms of business and SEO positioning.
The first rule of SEO
Specialize in your sector. Be a reference. With this, you will not only improve your SEO positioning, but you will get more people to search for your brand.
According to our criteria, SEO is doing things right on your website for x amount of time. Keep the website optimized, and clear for the user, and generate quality content that really interests your potential customers/buyers.
There is no mystery, you have to be consistent and do things right.
Ranking in Google, first technical steps
To begin with, we must distinguish SEO into two sections: SEO On-Page and SEO Off-Page.
On-Page SEO: these are all the actions you can perform within your website. The writing of the contents, the structure of the information, the correct use of headings, the images you use, the frequency of publication of new contents, etc.
Off-Page SEO: as opposed to On-Page SEO, these are all the actions you can perform outside your website. In Off-Page SEO the main positioning factor is link building; getting other websites to link to your website.
Knowing this, the first thing you should do is to optimize the SEO On-Page, and once you have an optimized website you can start with the SEO Off-Page. Later we will explain in detail and step by step each of the factors that you can start working on your website to start positioning it in Google.
How Google works
Google's main concern is that the users of its search engine find the answer to what they are looking for, so Google processes all the information of the websites in 4 blocks:
Crawling: Google crawls the Internet through links, this is done with GoogleBot or also known as the Google spider. It jumps from link to link crawling the Internet and collecting information from each page it visits. This is why internal links, also known as interlinking and inbound links or link building (SEO Off Page) are so important.

Internal links: links that are created within the same website; links in the menu, in an article that links to another article on the same website, links in the footer, etc.
Outbound links: these are links that go from your website to a different one. A link to your Twitter account, Instagram, Facebook, a friend's website, a client's website, etc.
Inbound links: links that come from another website to yours.
Link building: a strategy for attracting inbound links to your website.

Indexing: As long as the website allows content indexing (yes, you can disallow it if you don't want to), Google will store that URL. It is said that a URL is "indexed" when it appears in Google. If it does not appear, it means that it is not indexed and we would have to see why it is not indexed (we will see it in the section On-Page SEO and Indexing).
Analysis: Once Google has crawled and indexed a URL it analyzes it. It checks all SEO On Page factors as well as Off Page factors. It analyzes the text, the internal linking, the external linking, the loading speed…
Results: In this phase is where the Google algorithm comes into play and has to, weighing a huge amount of parameters and variables, decide which results to place in the top positions. The user experience also comes into play, because, if you place a result in first position but see that most users who enter leave without getting an answer (because they search for the same thing again in Google) surely that URL will drop positions and will never be in the first positions if it does not give the answer to what they are looking for.
The second rule of SEO
To be in the top positions you must offer exactly what the user is looking for. No more, no less. You must respond to their Search Intent.
On-Page positioning factors
We refer to On-Page parameters when it refers to any aspect related to our page that we can control ourselves, such as content, information architecture (IA), etc. In other words, aspects that we can directly influence.
Let's mention some aspects (not all) of factors that fall within the On-Page optimization:
Domain Authority – Domain authority, the more domains that link to us (with certain authority) the higher our authority will be.
Web architecture – Architecture of how we have structured the information (categories, articles, etc…) on our website.
Content – Content and information that we publish (if it responds to the user's search if it is original, of quality, etc.).
Interlinking – Internal linking of our website, together with the web architecture is key to offering an easily crawlable and indexable website for Google.
WPO – loading time of our website, this is a very important factor, especially on mobile devices, today more than 60% of users access the internet through a mobile device.
Off-Page positioning factors
Off-Page positioning factors would basically include those that we cannot control and would be basically summarized as follows:
Backlinks – Incoming links to our domain from other internet domains.
EAT – Have your web content generated by people who have authority in the industry.
Our methodology for SEO is based on what we have told you in this article. Obviously, it would be necessary to break down each section and go into detail about each of them (this is something we will be doing this year).
If you want to know more about SEO or need us to write about something specific, you can contact us. You can also visit our SEO Guide for more information on how we work on our own and our clients' websites.