To talk about SEO is to talk about keyword research or, in other words, keyword research, which is essential to position a website. And of course, this guide is about that.
If you know your market well, it may seem like a simple task. Still, the reality is that you will need well-worked research not only to achieve your positioning objectives but also to determine the most appropriate categories to develop your website's structure in the most efficient way.
Types of keywords
We can classify keywords:
Informative: for example, searching for a recipe, an address, or the meaning of a term.
Transactional: they are performed to make a purchase or direct download.
Navigational: the objective is to search for a specific website.
Go to: You are looking for a local business to physically go to.
By search volume
Head: are those that have a large volume of searches and a lot of competition, usually contain a single word, for example, travel, cosmetics, mobile …, these are keywords for which it is very expensive to position, and, however, do not have a relevant percentage of conversions since, in general, they are not transactional, which is what we are really interested in when positioning our website.
Middle tail: these are slightly more specific searches, but are still quite generic, for example: online travel, natural cosmetics, cheap cell phones, etc.
Long tail: these are much more specific searches, with less competition than the previous ones, but which nevertheless account for 70% of total traffic. In this long tail, you will find combinations of longer terms, even complete phrases. Most of these searches are transactional since the user is looking for a specific product or service, therefore, it will be easier for a conversion to occur through this type of keyword.Let's see then how to develop a positioning strategy based on the Long Tail.
Define long-tail keywords for SEO
When defining the keywords for your business, it is essential that you establish a series of basic categories to work with before setting those long tails you need, so you should answer, at least, the following questions:
What is your business, and what products do you sell?
What are the distinctive services you offer?
Who are your customers?
Can your product or service be purchased online?
If you have a physical establishment, where are you located?
Once the answers to these questions have been determined, we will establish two or three preliminary lists:
Product-oriented: let's take the example of a wholesale beverage distributor, here we would make a list of all the products it distributes: wine, beer, water, soft drinks, juices…
Oriented to specific characteristics of our products or the services we offer: here we will add relevant and descriptive information, for example: wholesale, artisanal, gluten-free, in barrels, direct sales…
Location oriented: here we would place the distribution area of the company: Asturias, Galicia, León…, in the case of a travel agency, for example, we could introduce a list of destinations offered…
Once these preliminary lists have been established, we will use some online tools to make our work easier.
Paid Keyword Research Tools
One of the most complete tools, with which you can, among many other things, check which keywords you are ranking for and in which position, simply go to the "Organic Search" section and in the "Positions" tab you will find the following information in the keyword list:
URL that ranks for that keyword
Current position and difference with the previous position
% of traffic it drives
Search volume for that keyword
Difficulty to position that keyword
Estimated CPC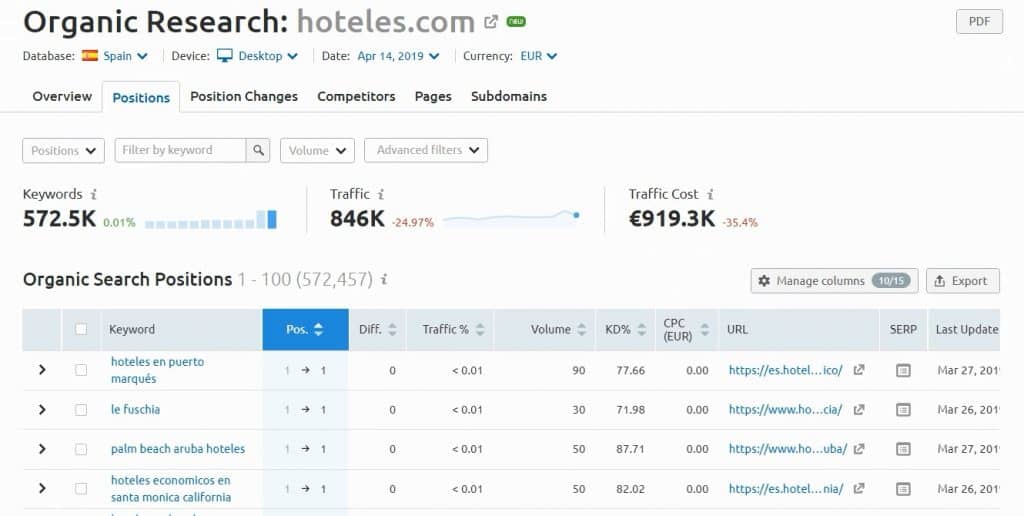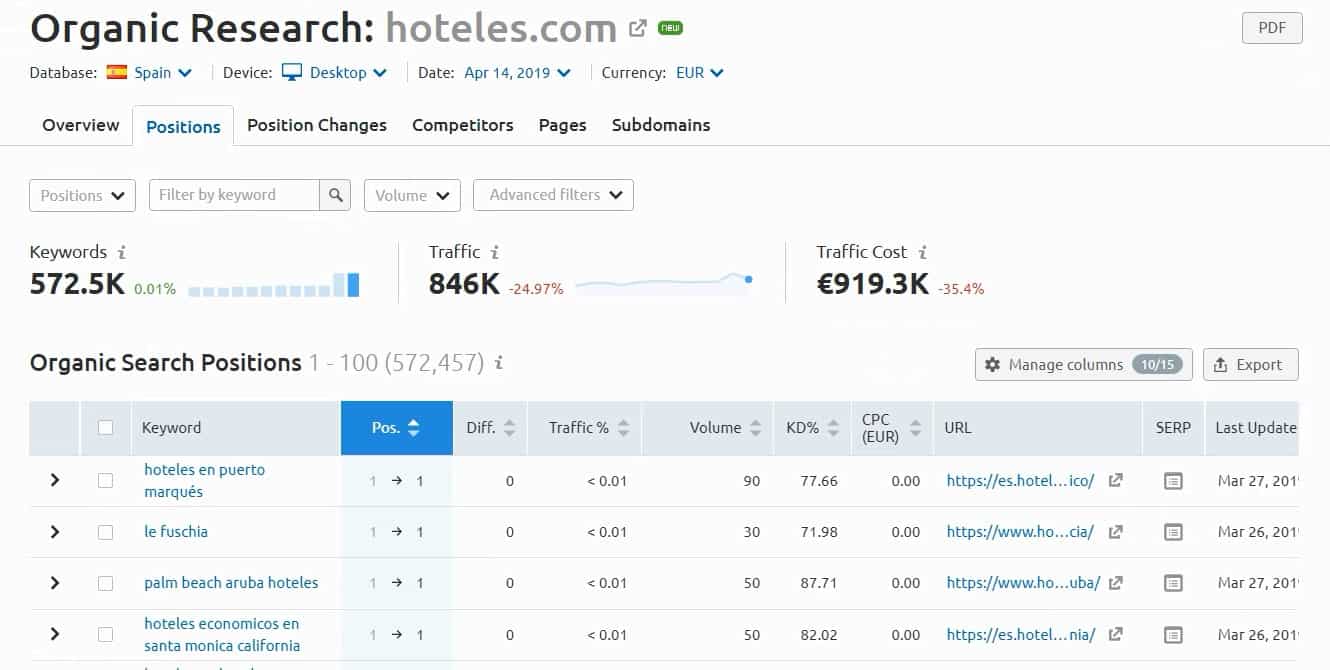 In the other tabs we can see what keywords our competitors rank for, very useful to know if they attract traffic for keywords that we have not taken into account, keywords that have undergone a change (have risen or fallen positions). It is my favorite and the one I use daily, has very useful options such as keyword evolution, position history, showing which keywords have fallen in position and which have improved, etc…
This tool began dedicated exclusively to link building, link checking, indexed domains, etc. But over time it has been adding very useful improvements so that SEOs do not have to spend our salaries on tools, personally, aHrefs and Semrush are two of the tools that I use daily, but to check positions I usually use Semrush as I mentioned.
The best thing about the aHrefs position checking tool is the filters, we can filter keywords by search volume, the position we have, difficulty, etc… and make a list of keywords to attack or improve.
Free Tools for Keyword Research
This tool offers the possibility of searching, based on one or several keywords: suggestions, cost and conversion data, as well as the history of searches per term.
Simply paste the list of words extracted from merge words, and a large number of data will appear on the screen, which we can download in spreadsheet format, we will focus mainly on the volume of searches and the competitiveness of each of the generated keywords.
From the search history, we will also try to extract those terms with a clear positive trend.
In another Google tool, GOOGLE TRENDS, we can analyze more exhaustively the trend of the most interesting keywords for our business, and compare them with other related terms.
This is another free tool, which extracts very interesting data, and also performs a basic analysis of positioning by keyword: from here we will extract information mainly for those keywords that the tool considers "easy", i.e. for which it is relatively easy to position in the first 20 Google results.
By refining these lists and analyzing the keywords one by one, we will be able to define a group of very interesting keywords to optimize our website.
But the work does not end here, we must keep an eye on traffic statistics and search engine positioning to detect any changes in search trends and, if necessary, add new terms to our keyword list.
This is a fairly simple tool, in which we will enter the words from our three lists and merge them to create a fourth, more detailed list of possible keywords for our website.
This tool allows the download of the list created in a spreadsheet, where we will go on to debug it, discarding those combinations that we do not consider relevant for our positioning.
With this, we would already have a first approximation of what will be our list of long-tail keywords.
Keyword research is necessary to work for any project that wants to rank in Google. Therefore, it is key that you work on keyword research for your project for as long as it takes. In TrueRanker you can also find keywords for your SEO project in an easy way.
If you have any doubts or questions about keyword research you can contact us and we will help you to solve them.