There are currently more than 2 billion websites in the world. These numbers mean that there are millions of people who live or want to live from what their online business generates. Most of the people who access these websites or online businesses do so through search engines (Google, Bing, Yahoo, etc).
Search engines have algorithms to crawl and index content in order to respond to the search intentions of their users. Depending on hundreds of parameters (among which is the quality of the content generated), your website will appear in better or worse positions in these search engines.
So, what is TrueRanker for?
TrueRanker is an SEO tool whose main function is to monitor the rankings of your website on Google. Knowing your positions and those of your competitors on a daily basis can help you make better decisions to improve the visibility of your business.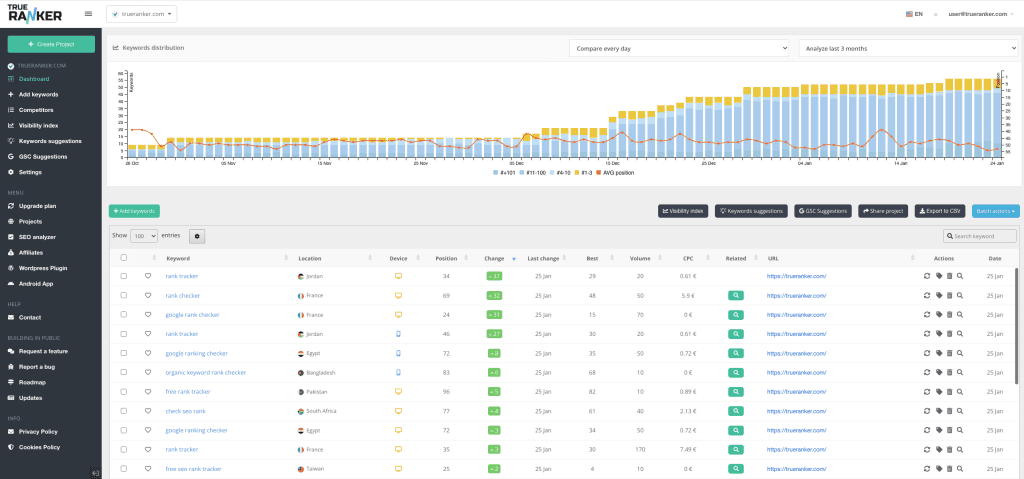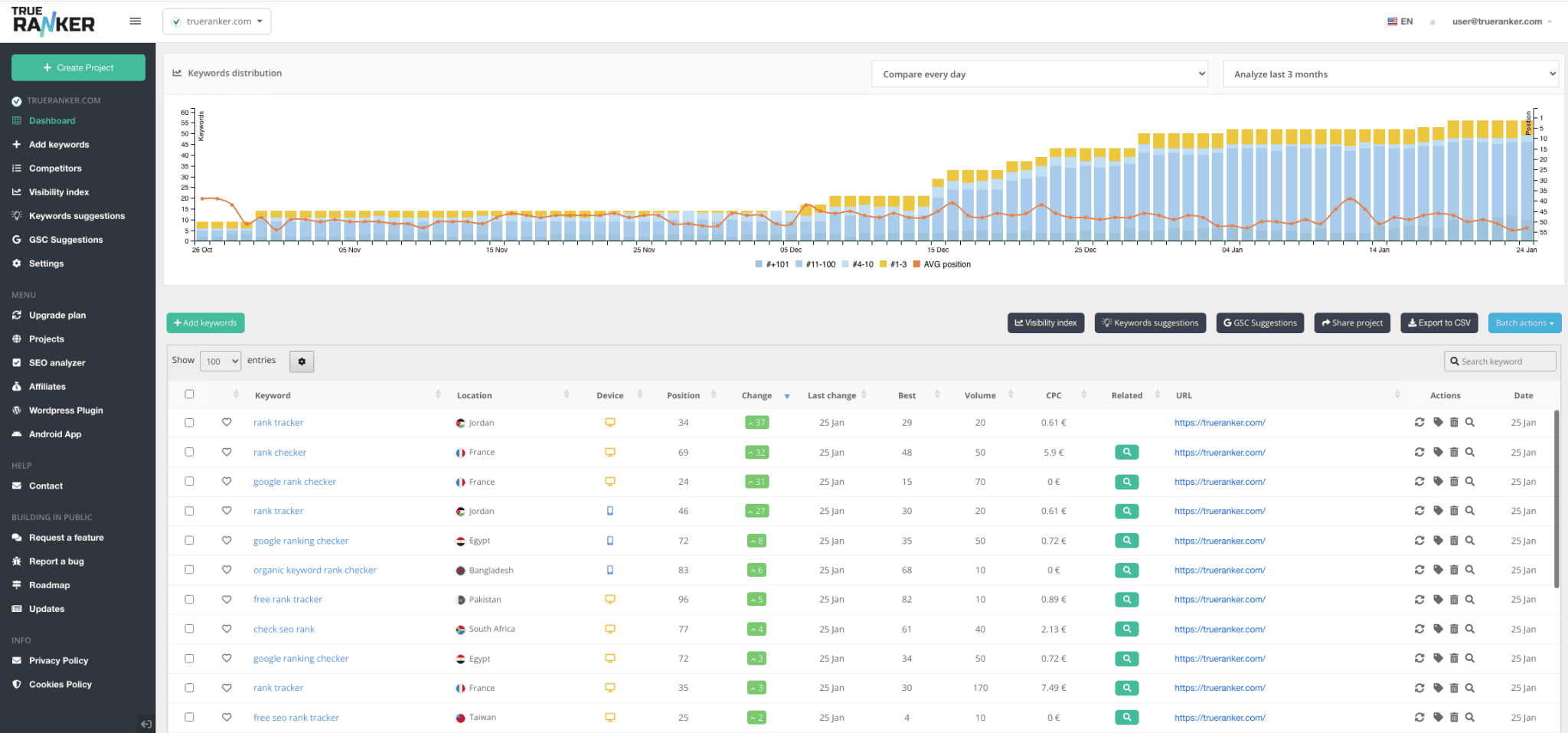 The idea of the project was born in 2018 when Sergio and I left our job as programmers in a company in Alicante (Spain) and decided to make the SEO tool that we had always needed for our projects.
Why did we create TrueRanker?
When Sergio and I started doing SEO, we encountered a problem that almost all tools had: The difficulty of using them and knowing how to interpret their data well. Besides this, sometimes we needed to process some data to have better information and it was something we had to do manually.
For these reasons we thought of making the tool that we needed. Currently, we base the development of our tool on the requests of our customers, so they can have a custom SEO tool.
It is important to know that TrueRanker is a bootstrapping project. We don't have behind us any big company funding us or telling us what we have to do. Behind us are only our customers and friends, who are the ones who help us to make TrueRanker bigger and bigger.
On which search engines can I monitor my keywords?
TrueRanker currently offers all data based on Google searches. Why Google? The answer is very simple, more than 90% of users search for what they want on Google.
We plan to be able to monitor all existing search engines in the market in the future.
Can I try the tool for free?
You can try the tool for FREE without entering any payment information. All you have to do is register at TrueRanker and fill in the requested information:
Name
Email
Password
Country
You will then be sent an email to confirm your account. Once your account is confirmed, you will start a free trial of the Advanced plan (100 keywords) for 14 days.
If you need to test the tool with a more advanced plan, no problem. Just let us know and we will give you access to the number of keywords you need.
You can see our plans from here.
Can I unsubscribe at any time?
OF COURSE. You can unsubscribe whenever you want to stop using the tool.
Can I delete my data whenever I want?
YES. At any time you can delete your data and cancel your account without any problem.
Why choose TrueRanker?
100% accurate results and data. Daily we are attentive to possible changes in the SERPs in order to always offer the correct results.
Continuous development of the tool. Every month you will have new features that will help you improve your SEO strategy.
Technical support. We always answer your questions and try to solve your problems. Moreover, we try to do it as soon as possible.
Price. Take advantage of our introductory price this year. Right now we are one of the cheapest tracking tools in the market. If you sign up now, we will always keep your price. Soon we will raise them.
Ease of use. We are one of the easiest SEO tools to use and with which you will be able to better interpret your keyword data.
Do you have more doubts or questions about what is TrueRanker? you can contact me through our contact form or through our chat. Also, I invite you to try our tool and convince yourself that TrueRanker is the rank tracker you were looking for.