Getting to appear in the top positions of the Google SERPs for the content and pages of your website should be a priority, as this will increase your web traffic and significantly increase conversions.
Fighting for the privileged positions of Google is not an easy task because you have to compete with a lot of websites and companies that pursue the same goal. Knowing the most important criteria of positioning is essential to optimize a website for Google to position it in a better place in its ranking, being Google EAT a valuable information in this regard.
What is Google EAT?
Google EAT (Expertise, Authoritativeness, Trustworthiness) encompasses three concepts that are fundamental for web positioning for the Google search engine, such as expertise, authority and trustworthiness.
After the implementation of Google's BERT algorithm in 2020, these three concepts included in Google EAT become the most important for the SEO positioning of your website.
Let's see what each of these concepts refers to.
1. Expertise
User experience has become essential for Google to position a website in the top positions of its ranking. It consists of optimizing the website so that the user enjoys the best experience, with fast and efficient operation regardless of the device from which they connect, and with content and functionalities that provide value.
However, in Google EAT the concept of experience is more focused on offering quality content prepared by experts in the field, especially in health and finance (as we will see later when we talk about YMYL sites).
2. Authority (Authoritativeness)
The authority of your website is the prestige it has on the internet, being now very important for Google to consider it of value for its search engine. Link building is a fundamental technique to improve the authority of a website and consists of getting a large number of incoming links from other sites, which must also have a good authority.
The reputation of the site from which the link is received and the relationship between topics are two key aspects to achieve a good authority.
3. Trustworthiness
The third key criterion of Google EAT is the trustworthiness of the content displayed to users, i.e. that the information is truthful, legitimate, transparent and accurate. In this aspect, it is important to include contact details and information about the people behind the website and its content (for example, adding who is the writer of each blog article and providing valuable information about it).
Apart from providing truthful and accurate information, it is important that the website is secure and reliable, for which it is necessary that it uses the HTTPS secure internet protocol, has an SSL/TLS security certificate, and does not implement advertising techniques to try to "trick" the user and try to get clicks on paid ads (clickbait).
Why is Google EAT a key factor in improving SEO?
As a general rule, Google EAT provides the three elementary points to achieve a better web positioning. However, on certain pages, their impact is even greater due to the level of precision of the information they provide.
Sites such as "your money or your life" or YMYL (your money or your life) are particularly sensitive to the three Google EAT ranking conditions. These sites are those that have a strong influence on either people's health or their financial situation.
To see an example of these YMYL sites we can name a specific search on health, for example, what are the symptoms of the Omicron variant of Covid-19. Being a very important and sensitive health topic, Google aims to give the most accurate information in its first results so it applies Google EAT criteria to get the most valuable expert information from its database.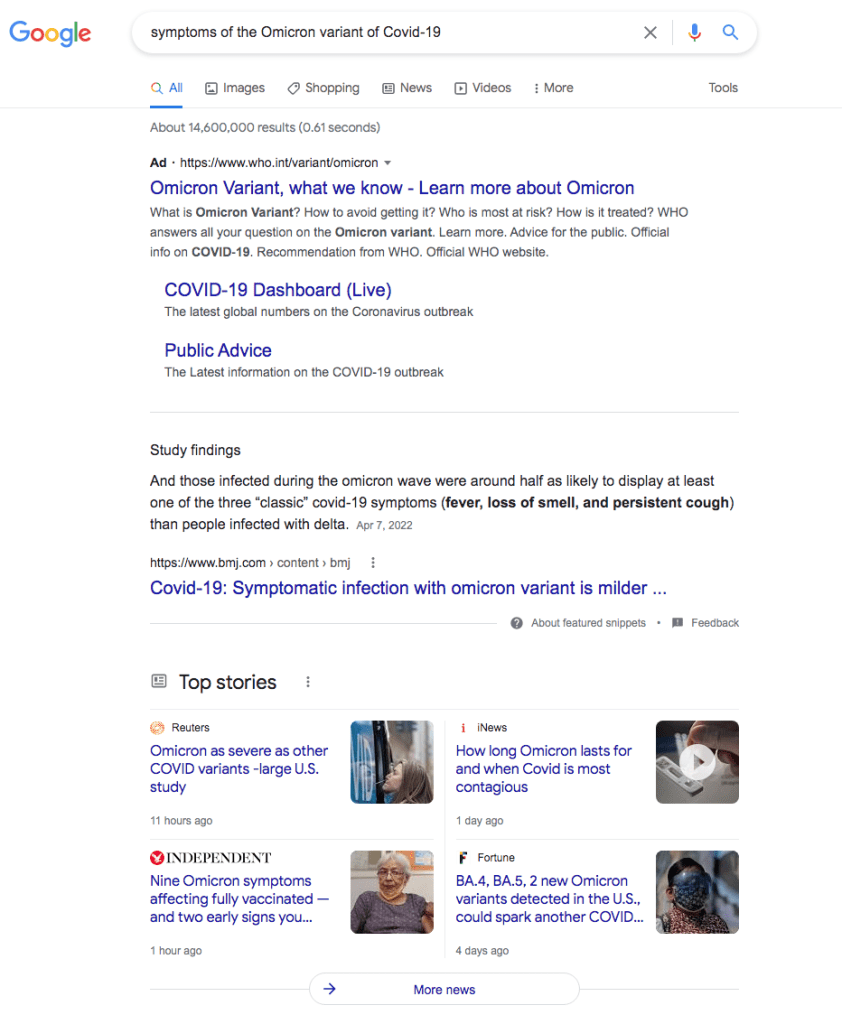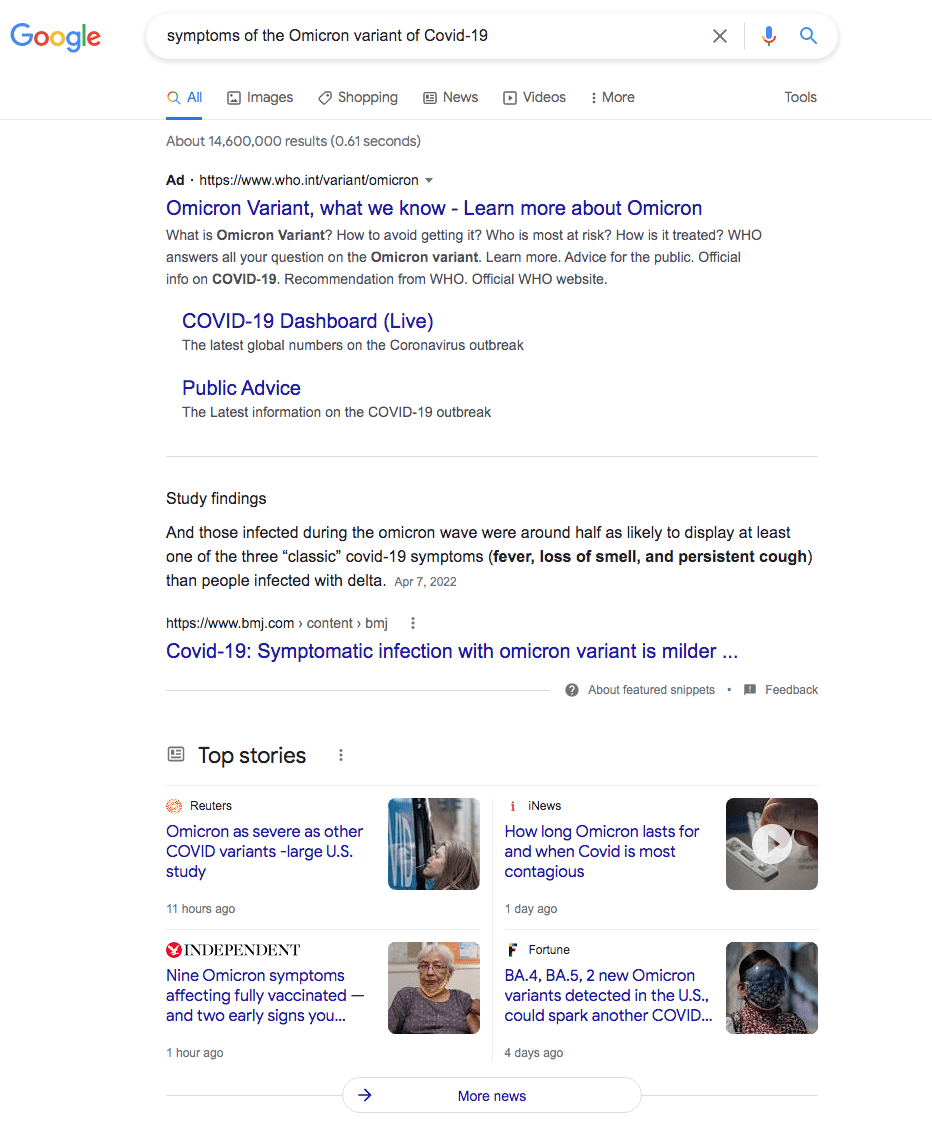 Improve the EAT of your website
If you are wondering how to improve your web positioning, we offer you a series of interesting recommendations so that you can comply with EAT's indications.
Hire experts for your articles
Having writers with a high level of writing and SEO knowledge is essential for a good content strategy. However, in order to get the most out of Google EAT, it is necessary to rely on experts for each type of article you publish on your website or online store blog.
In cases where you deal with content that can be considered YMYL, it is especially interesting to hire experts for your articles, because this type of text is where EAT has the greatest impact, which will allow you to achieve better positions in the SERPs.
If you create an article about how to make money online, for example, the writing of an expert will be essential to achieve the level of quality required for Google to evaluate the content as valuable for users, and thus place it in better positions in its results pages.
Demonstrates the expertise of the editors
It is important to demonstrate the experience and capacity of the writers and the website itself, as this will project greater confidence to users and Google. To achieve this you must take into account factors such as:
1. Create one page per writer
Each writer or expert should have their own page or profile on the website so that valuable information about them can be accessed (such as their training, specialization, published articles, and any other information of interest).
It is a plus for the website to show the writer's credentials as it will benefit from all the positive points provided by its specialized writers.
2. Link the page to your social networks
Social networks are one of the most important digital communication channels nowadays, due to their many advantages such as their direct and immediate interaction, and their great popularity.
Linking to the social networks of expert copywriters is essential to improve the impact it has on users and Google.
3. Keep content up to date
Specialized writers must keep the content updated, that is to say, they must provide recent information on the subject matter of each article. Changes in regulations and laws, new legal measures, or innovations must be taken into account so that the articles provide the greatest possible value to users.
Facilitates contact forms
If your website lacks contact information and ways to communicate with users, it will be perceived by them and by Google's algorithm as an "unreliable" site. For this reason, it is essential to provide contact details as it is key to providing the best customer service and getting their maximum confidence.
Publish verified data and mention your sources
The veracity of the information is another key point when dealing with YMYL content. When generating quality content, it is necessary that it is based on real data that provides relevant and accurate information.
One of the best ways to guarantee the reliability of the information in the content is to add the sources that are used to prepare and write an article.
Including a link to these sources is also important to make it easier for Google's algorithm to go through and verify the quality and reliability of the information. In addition, there is always the possibility of getting a link back when linking to a website, which helps considerably to increase the authority of the website.
Encourages positive reviews
The reviews, ratings and opinions of customers and users are essential to increase the reputation of the website on the Internet, so it is necessary to implement a good strategy to encourage positive reviews by users and customers.
Nowadays most users consult the opinions of other users to learn more about how a company works, its reliability and its level of quality and customer service. Positive reviews of the website will increase its prestige and authority, something that is essential according to Google EAT to improve positioning in the SERPs.
Improves brand reputation
In addition to improving the reputation of the authors or editors, it is necessary to increase the reputation or prestige of the brand to improve the EAT. The more people search for the brand on Google, the higher its reputation will be, so specific campaigns and strategies should be designed to achieve this (email marketing, social media, content marketing, branding…).
To improve your web positioning it is necessary that you take into account Google EAT, betting to offer the best user experience, increase the authority of your website and provide a safe and reliable environment for users.
You already know what a YMYL site means and the importance of Google EAT for the positioning of the same, so you can apply the recommendations provided above to improve the positioning of your content and increase the visibility of your site.