Are you looking to stay ahead of the competition and enhance your online visibility? Look no further! We are thrilled to present our latest update, a robust dashboard that has been carefully developed with our community of users' feedback at its core. Forget about complicated tools that leave you scratching your head. Our intuitive keywords tracker keeps things straightforward while empowering you to effortlessly monitor website performance, optimize SEO tactics, and skyrocket your rankings on search engine results pages (SERPs). Unlike other SEO rank tracker tools in the market, we've made it our mission to provide an user-friendly interface and exceptional value at a lower price.
An important change in the TrueRanker dashboard is that it has been enhanced to provide insights based on the selected period in the datepicker. Visualize the changes from the beginning of the selected period to the end. While the default setting typically reflects the latest period, it's important to note that you also have the option to explore historical data. This allows you to gain insights from past periods and analyze trends over time. Additionally, the dashboard enables you to easily switch between different periods, such as 1 week or 1 month, depending on your preference or the timeframe relevant to your SEO progress tracking.
Let's take a closer look at the four key sections of our feature-packed dashboard: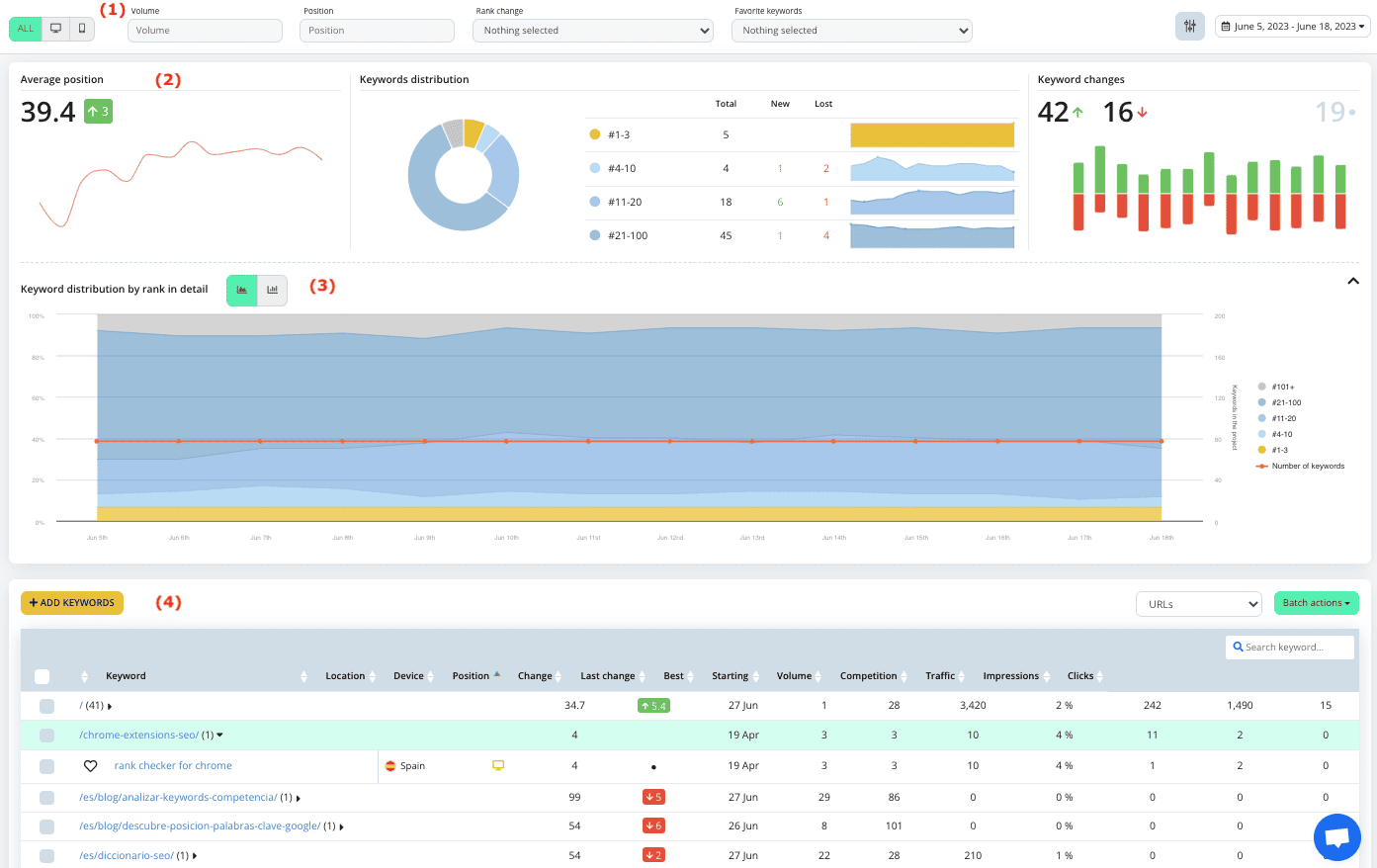 1. Filters and datepicker: Unlock Precision Tracking
Gain unparalleled control over your SEO data with the advanced filtering options for your keywords. Tailor your search parameters based on keywords attributes such as location, urls, device, and also with keywords changes such as position, volume or changes. Note that the filters and datepicker affect all the data in the dashboard. Click on the show more filters button to see them all.

2. Headers and Progress Graphs: Visualize Progress at a Glance
The new intuitive interface provides dynamic headers and progres graphs, enabling you to visualize your website's ranking progression over time. Identify upward trends, track the impact of your SEO efforts, and make data-driven decisions to optimize your strategies. Note that changes are based on the datepicker period, usually having the final value as the current date. By hovering over the graph, you can explore the specific daily value.

Average Position: Understand Your Keyword Rankings
This section displays the average position of all the keywords in your project. Indicates the final project average position, period changes, and an accompanying graph with the day-by-day fluctuations.
Keywords Distribution: Get a Clear Picture of Ranking Groups
With our Keywords Distribution feature, we bring clarity to the distribution of keywords. The pie chart categorizes keywords into four ranking groups: Top 1-3, Top 4-10, Top 11-20, and Top 21-100. Additionally, the grey group represents keywords that are currently not ranking, with a position of 101+. This visual representation empowers you to grasp the distribution of keywords quickly. By observing the number of keywords in each group and tracking how many keywords entered or left a specific group during the period, you can gain valuable insights into your project's keyword dynamics.
Keywords Changes: Monitor Rank Shifts
Our Keywords Changes section presents a concise overview of the keywords within your project that have experienced shifts in rankings during the selected period. Whether keywords are moving up, down, or remaining unchanged, this feature provides crucial visibility into the performance of your SEO efforts. The graph illustrates these changes on a daily basis.
3. Detailed Graphs: Dive Deeper into Data
Dig into the nitty-gritty details with our comprehensive, and growing, range of detailed graphs. Take control of your website changes by creating personalized notes, whether you make updates on your web or if Google implements core changes. These notes are invaluable for tracking and analyzing the impact on your website's performance. Easily refer to them within the graph, providing a comprehensive overview of the correlation between your actions and any fluctuations in rankings or traffic.

4. Keywords Table: Optimize with Precision
The heart of our Google Rank Tracking Tool lies within the powerful Keywords Table. Experience the convenience of a single location that provides in-depth visibility into your keyword rankings, search volumes, and related data. Identify lucrative keyword opportunities, track your progress, and fine-tune your SEO campaigns to dominate the SERPs.
We are thrilled to introduce a significant improvement to the Keywords Table – the ability to gain a comprehensive overview of your keywords by aggregating them based on URL, Location, or Tags. This new feature differs from filters as it allows you to compare average positions across various locations or quickly identify the URLs with higher rankings. This enables you to focus on the specific keywords associated with each URL, empowering you with valuable insights to optimize your SEO strategy further. Note that you can customize your table easily by showing, hiding, and reordering columns according to your preference.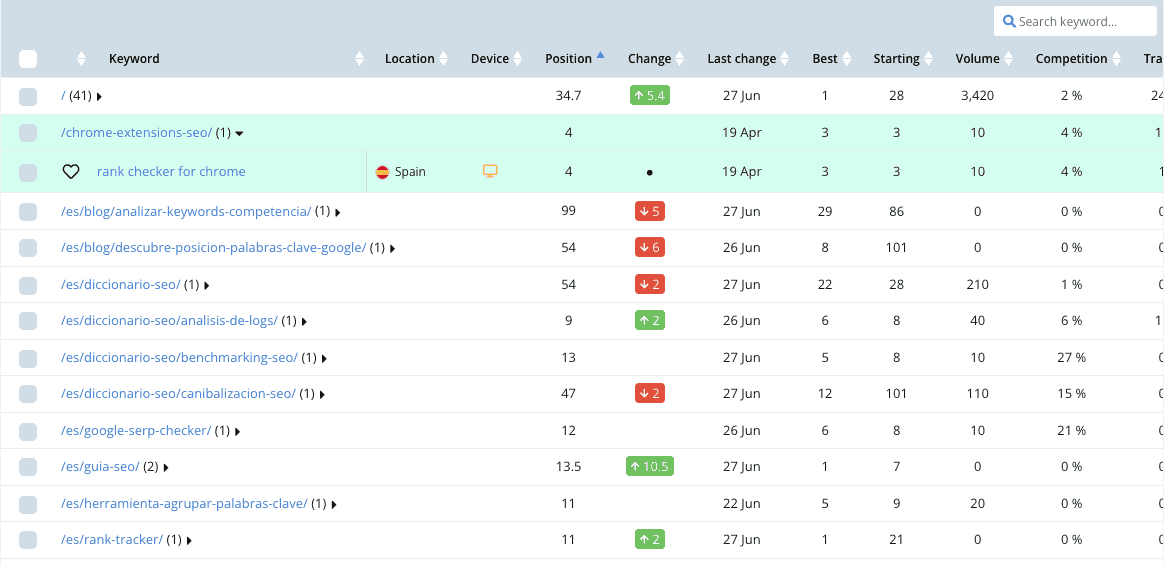 Thanks to the valuable feedback from our TrueRanker community, we have implemented significant changes to further enhance your user experience. First, we have streamlined the left menu to prioritize the most frequently accessed navigation options, ensuring a more intuitive and efficient workflow. Additionally, we now provide explicit information when your keywords haven't been updated on the last day, ensuring you have the latest data at your fingertips.
To improve the overall efficiency of our platform, we have also refined our keyword updating algorithm. By aligning it with the behaviors and preferences of our global user base, we can now update keywords promptly, considering individual time zones and access times. This ensures that you receive the most accurate and up-to-date information for your SEO efforts.
Rest assured, while introducing these new enhancements, we have preserved all the existing important features that our users rely on. Our commitment to delivering one of the cleanest interfaces in the industry remains unwavering, along with our dedication to providing a budget-friendly Google rank-tracking tool for all users.
We extend our sincerest thanks to our incredible TrueRanker community for their valuable feedback. Your insights have been invaluable in shaping these improvements, and we are committed to continually refining our product to meet your needs and exceed your expectations. Experience the power of TrueRanker for yourself by signing up for a Free Trial today. Join thousands of satisfied users and join the TrueRanker community.
The TrueRanker team.