In order to establish a good SEO strategy, it is necessary to have a lot of information about the keywords that are being used. Each URL of a website is positioned in Google by a series of keywords, reaching a position in its ranking that can be improved using different SEO techniques.
Knowing what is the position in Google of the main and secondary keywords of a website or eCommerce is vital information for SEO. Knowing where the different pages of the site appear in the Google SERPs will allow evaluating if the actions that are being taken to improve web positioning are succeeding, or if, on the contrary, changes and improvements are needed to achieve it.
Why is it important to know my position in Google?
Being in the top positions of Google results pages should be one of the main objectives of any website, since the vast majority of users use this search engine when they use the Internet.
Knowing what is the position of a website in Google is essential for different reasons:
Evaluate the success or failure of the positioning strategies being implemented.
Identify whether competitors are in better or worse positions in Google.
Know which pages of the site are well ranked, which ones need improvement, and identify those that are not ranked, or even indexed.
Perform historical tracking to see the evolution in Google rankings.
Knowing the position in Google is very important for SEO as it allows one to evaluate the work being done and set new SEO goals.
Is it enough to search in the search engine?
One of the usual ways to know the position of a website in Google is to perform a search. In the results obtained, the position of the website can be searched among the different pages.
Although this process can be effective if the webs are in the first positions, it is not the recommended method because it has a number of drawbacks:
Waste of time. Having to perform a search for each keyword and URL in Google and then locate the position in the results pages requires the investment of a lot of time and effort, something that can be avoided by using tools such as a rank tracker that provide the information immediately and accurately.
Reliability of results. Using a direct Google search to discover the position of web keywords is not a reliable method for several reasons. First, Google uses information stored in cookies to provide personalized results based on the user's browsing habits, and second, Google takes into account the location from which the search is performed to display the results.
Using the incognito mode of web browsers to know my location
A commonly used alternative to know the position in Google is through the incognito browsing mode offered by Google Chrome, Microsoft Edge, Opera, Safari, Mozilla Firefox and other web browsers.
However, performing searches in this mode will only prevent Google from using cookies to display personalized results to the user, but it will not do so with the geolocation of the search so the results obtained are still not entirely reliable or accurate.
So how can I know my position in Google accurately?
The best way to know what is the position in Google is to use a specific professional tool such as TrueRanker. It is a portal that allows you to know precisely the keywords that a website has positioned, accessing its exact position in the Google ranking.
The advantages of using TrueRanker when it comes to knowing the positioning of the URLs of a website in Google are:
To know the global positioning.
Access positioning in any country or region of the world.
To know what is the position in Google at a local level (in a certain zone or area).
Access Google ranking information from different devices (computer, tablet, laptop or cell phone).
The fact that a page appears in the first positions of Google in the United States for the main keywords does not mean that the same thing happens when a search is performed from other countries.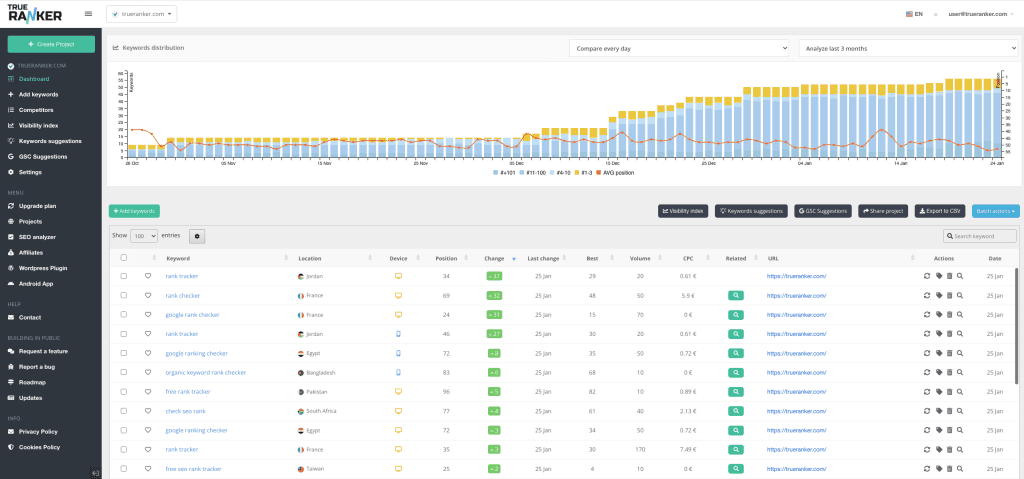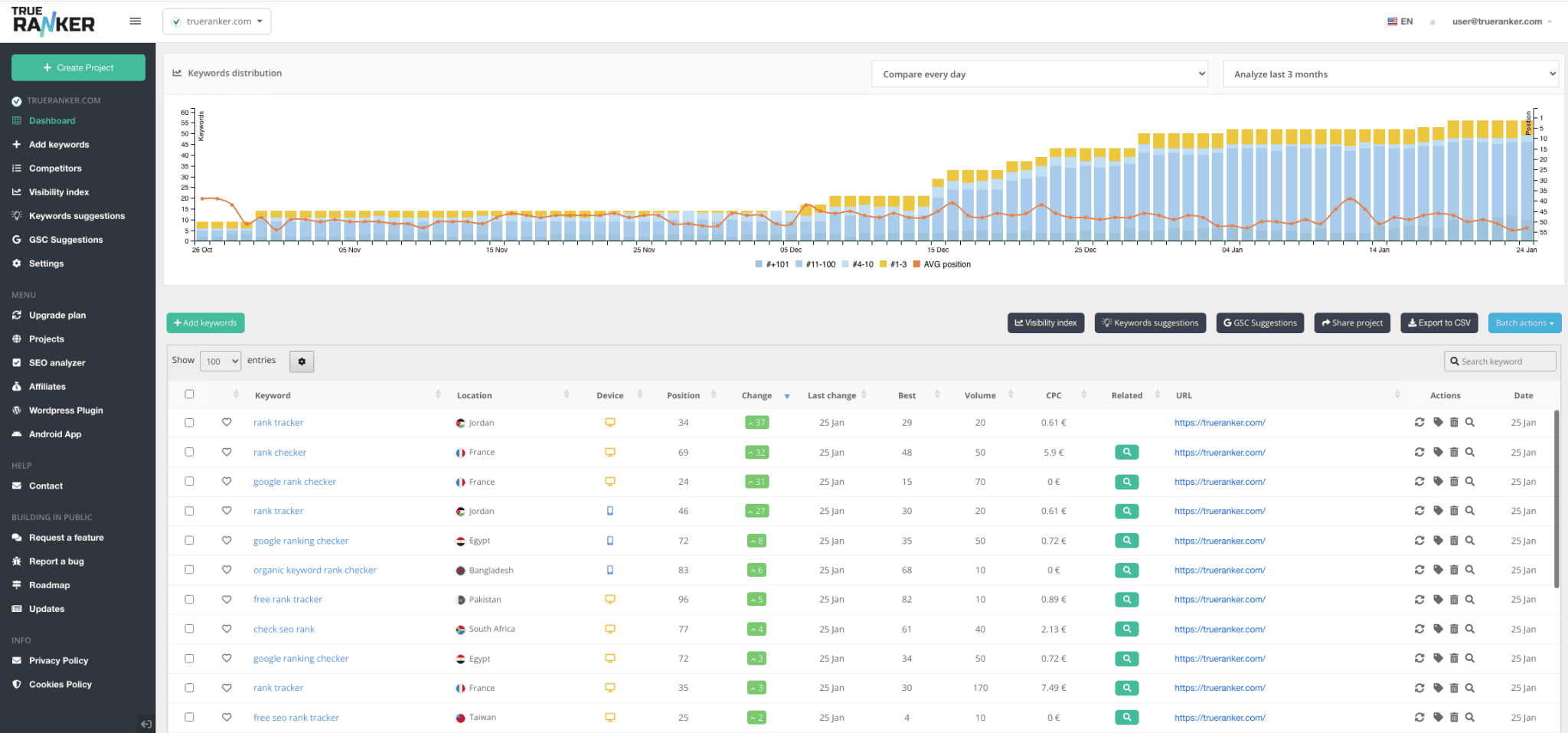 Let's imagine an online store that sells its products in Germany and France, in addition to its own domestic sales. With TrueRanker you will be able to consult real information about your positioning in Google for German or French users, that is, to know the position in Google as if the search was made from those countries. With this information you can know precisely your positioning for those markets and can design an appropriate SEO strategy to improve it.
What you should take into account to know if your website's position in Google is good or bad
For a website to have visibility in the digital world it must appear on Google. If a website is not indexed in Google, its web traffic will be minimal. This is due to the massive use that users make of this search engine, coming to use it to perform any type of search, such as to find a company, find out how to get to a specific location, find information on products and services, know how to perform a certain task, prepare a recipe, and almost anything we can imagine.
But it is not enough to be in Google, it is also necessary to appear in the privileged positions of the results pages in order to attract a greater number of users to the web.
To know if the positioning in Google is good it is necessary to evaluate:
Check that the website is indexed
First of all, it is important to verify that the website is indexed, i.e. that it appears in Google's ranking. If it is not indexed, it will be invisible to users and will not receive any organic visits (naturally using the Google search engine).
Appear on the first page of SERPs
Most users find what they are looking for on the first page of Google SERPs, and hardly navigate to the following pages. If a website appears on the first page, it means that it is doing well in terms of SEO.
If on the other hand, the website is lost among the many pages that can be accessed, it will be more difficult to attract the attention of users and get them to visit your site.
Google top positions
If the page is in the top positions of Google, it will get a large volume of web traffic. Appearing in the privileged positions of the SERPs is the main objective to maximize the reach of a website and thus achieve high visibility, increase conversions and offer a great image of the site.
Being number one in Google SERPs means, in many cases, being a leader or reference in your industry or subject.
Benchmark against competitors
Another aspect that must be evaluated to know if the current positioning is good is to compare the ranking with that of the main competitors. If you appear in a good position, but the main competitors are a few positions higher, you will be losing many visits from users interested in what the company or site offers.
It is important to emphasize that this comparison must be made with the main competitors.
For example, if an eCommerce appears in the third position of the SERPs, but the first two are occupied by giants such as AliExpress or Amazon, it is achieving an optimal result, because it will be above the direct competitors.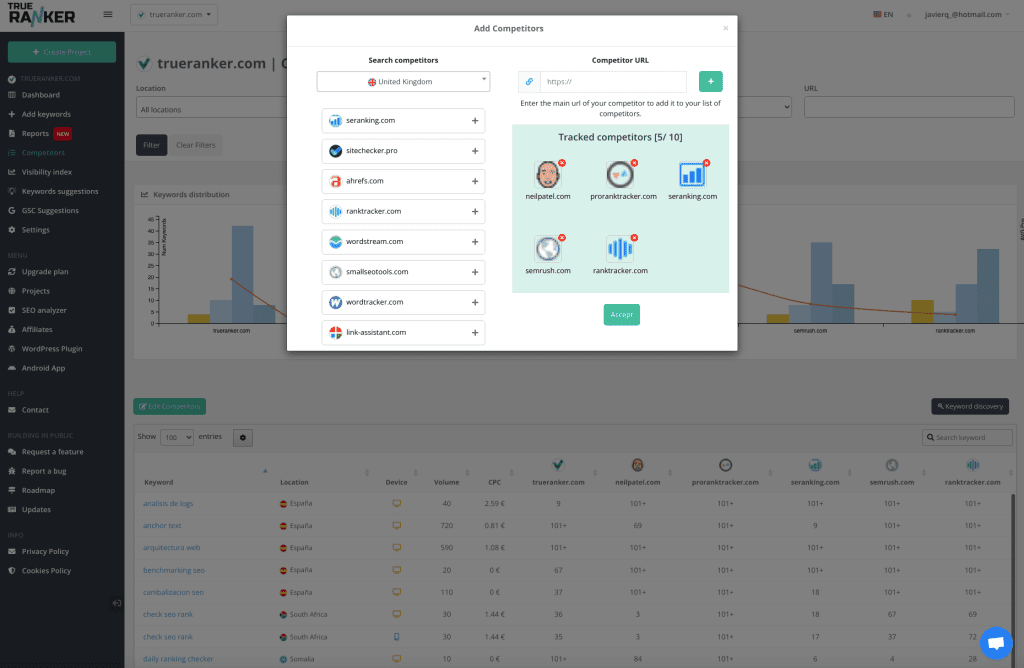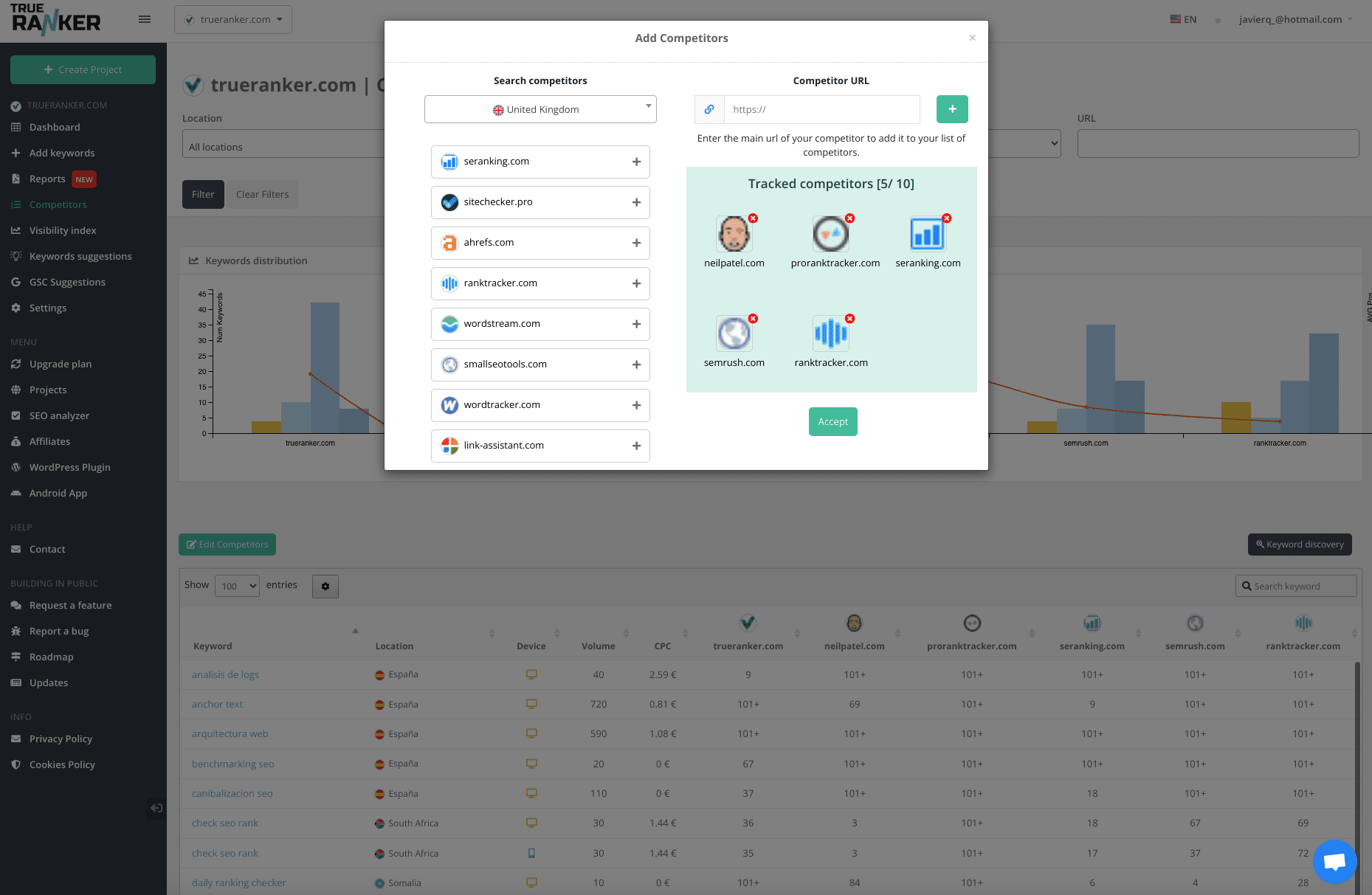 Google Rich Results
Rich snippets and featured snippets are content that Google highlights in a special way on its results pages to offer users a better search experience.
If the website appears in these rich snippets or results, it will be placed in a privileged place, where Google especially recommends your content, which will mean a significant volume of traffic to your site.
Ads in SERPs
Google places in the top positions of its results pages, several pages that have paid for it (through SEM campaigns in Google Ads, for example). If you get to be in the top positions of Google, but the competition is betting on this type of paid positioning, it is important to consider a joint SEO and SEM strategy to access all those visits that the competition is getting.
Other Tools to know my web position in Google
TrueRanker is a specific application for professional SEO work with keywords. It is the ideal tool to know the position in Google of the keywords of your website, although there are several alternatives on the market to obtain this information.
Below, we will see some of these tools, dividing them into those that are paid and those that can be used for free (TrueRanker has a free lifetime plan with which you can start monitoring your keywords.).
Paid tools to know my position in Google
The two most important SEO platforms used to optimize a website for search engines are SEMrush and Ahrefs. They are real SEO suites that have numerous tools and utilities.
One of the options that can be accessed with these tools is to know the ranking of a website in Google and other search engines.
SEMrush is an advanced SEO tool that allows you to know precisely the positioning of a website for different keywords. To do this, it has an option called Position Tracking that checks the search rankings offering information about it (comparison with other websites, changes over time…).
It also allows you to monitor whether there has been an improvement or positions have been lost in the Google ranking, indicating it visually with green upward or red downward arrows, in addition to the value of the positions that have been lost or gained.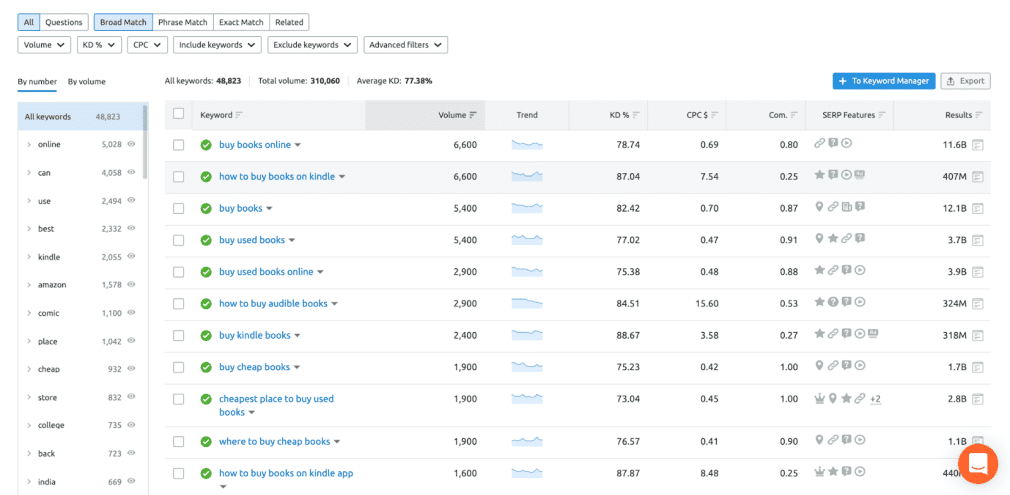 Ahrefs competes with SEMrush to be the leading SEO tool. Its Rank Tracker is a utility specially designed to monitor the position over time of a website's keywords in Google.
Like SEMrush, it presents the information in numerical values and attractive visual representations, offering diverse and related information on the different keywords for which a website ranks.
The main drawback of these solutions is the high cost of using them, something that keeps them away from many users and SEO professionals. In addition, the use of both tools is somewhat complex and requires time and dedication to learn how to manage their options and functionalities, so it is a better alternative to use a specific tool to work with keywords.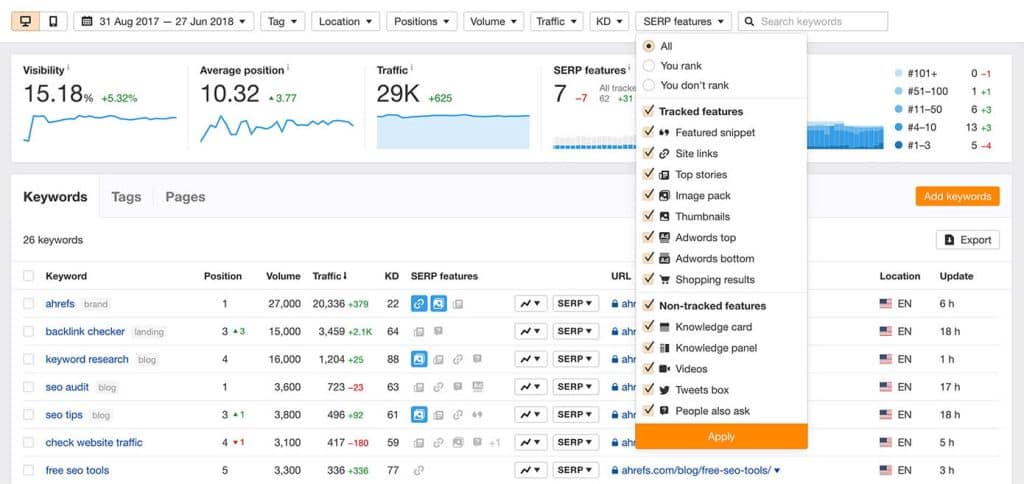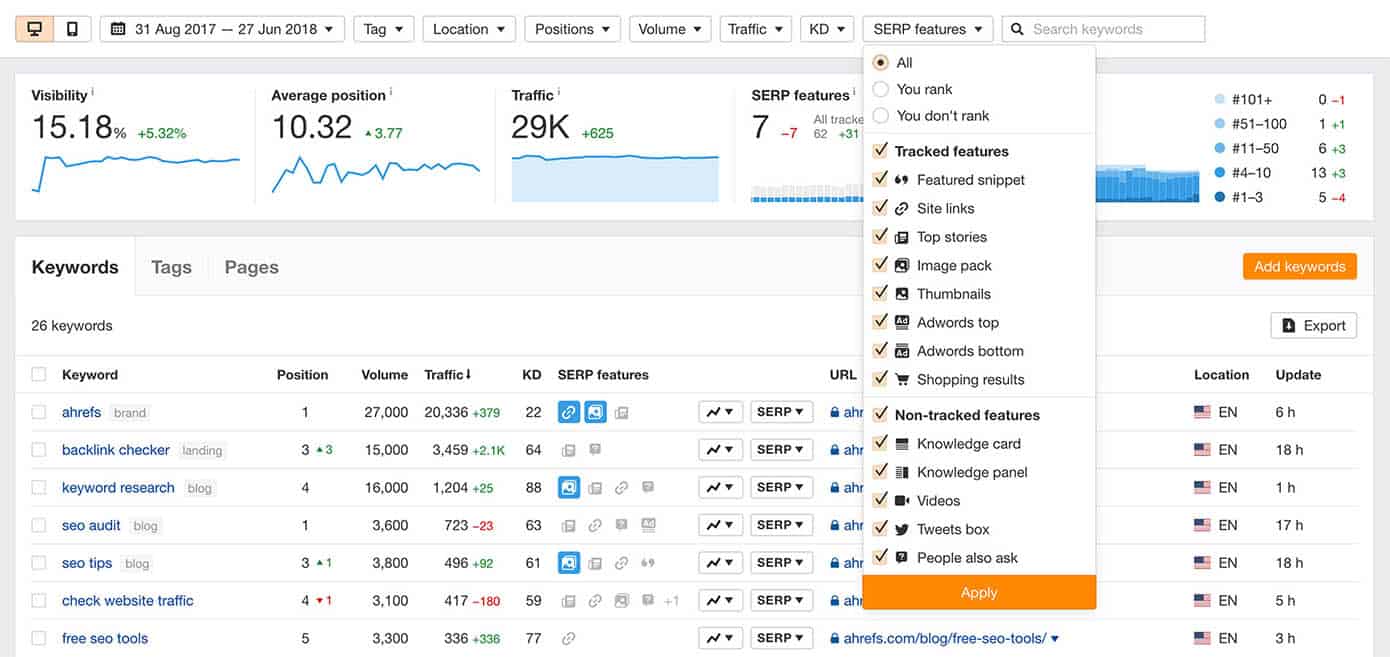 Tools to know the position of my website on Google Free
Google Search Console is a free tool offered by Google that links to a website and serves to index pages in Google, either individually with its URL, or using a list of pages through a sitemap.
With Search Console, you can know if a website is indexed or if it has any penalty imposed by Google, see if there are error pages, and know what keywords are being positioned.
How to know your position in Google with Google Search Console
It is possible to know the position of the different keywords for which a website is positioned with Search Console, although the way in which it presents the data is not as intuitive and easy to understand as TrueRanker, for example.
The process to see the position in the Search Console of the keywords ranking is as follows:
Go to the Search Console platform and select the domain.
Select the Performance option in the left side menu.
In the graph displayed there are by default two values activated (total clicks and total impressions) and two other values deactivated (average CTR and average position). Enabling the Average position will show the position in Google ranking for each keyword for which the site is positioned.
Consult the keyword positioning data, both in the graph and in the table below.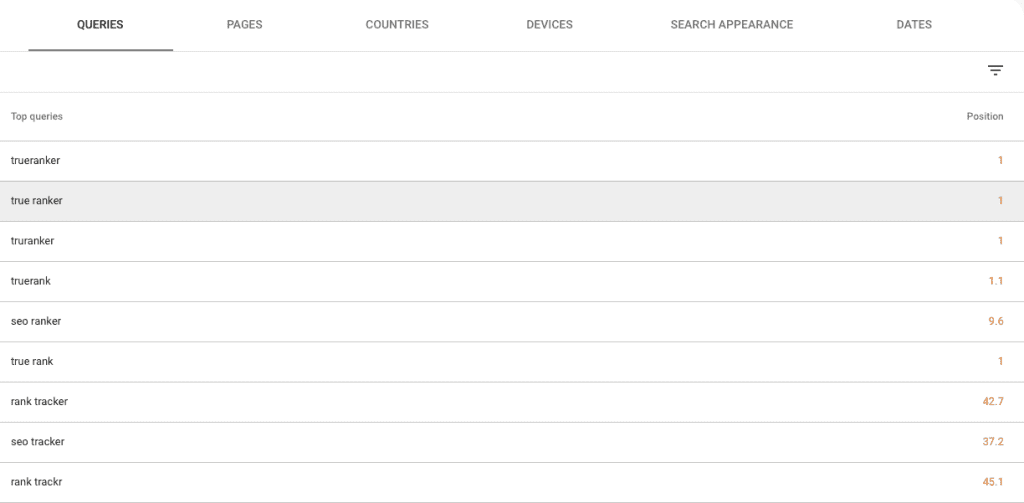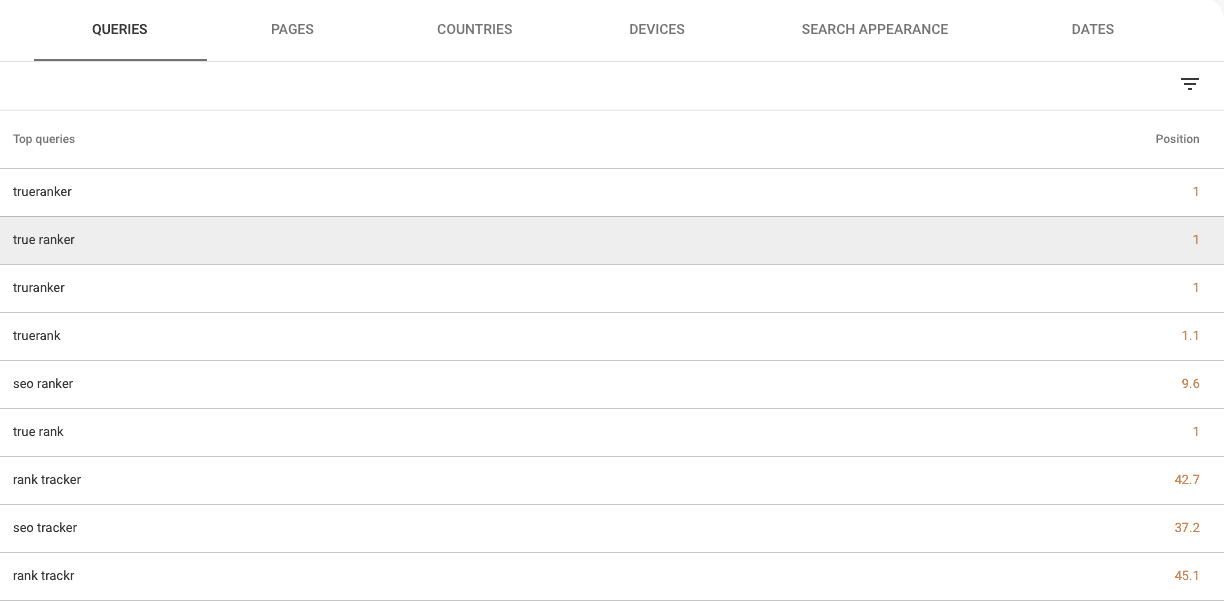 The problem with consulting the positions in GSC is that, as you can see, it is an average of the position. In addition to this, you will not be able to lookup local positions or see who your competitors are.
TrueRanker also offers a FREE tool to cross-reference your website data in GSC with the data collected with TrueRanker to get better information about your keywords.
Finding out the exact position in Google that your site occupies according to the different keywords for which you rank is vital information for you to optimize your SEO. Thanks to tools such as TrueRanker, SEMrush, Google Search Console, or Ahrefs, you can know precisely the positioning of your site and thus establish the best SEO strategy to improve the visibility of your website or eCommerce.