In this post I want to explain how the WordPress "True Ranker" plugin works so you can know what position your website is in any country, state or city in the world.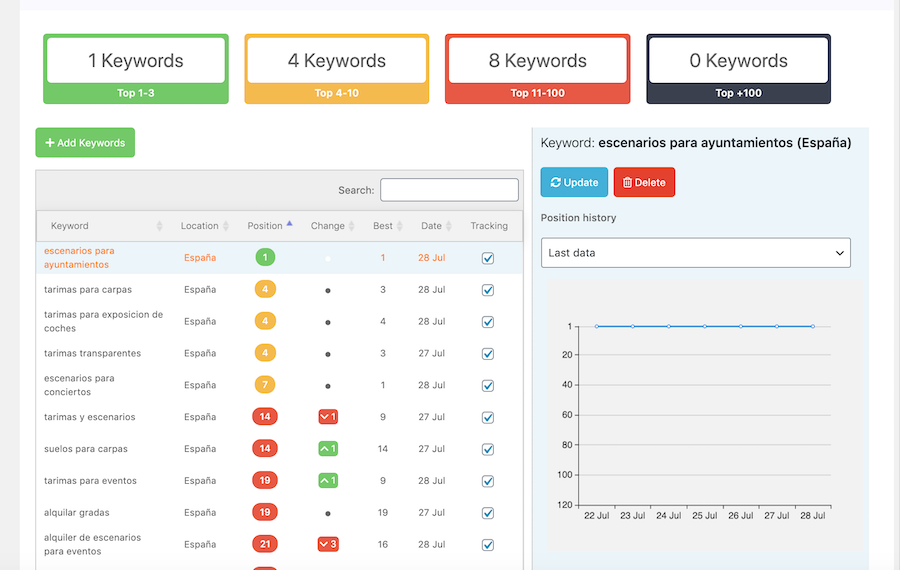 WordPress is the most used CMS for web projects. Provide the user with an intuitive and simple tool with which to know their SEO geolocated ranking was something necessary for us.
You do not need to have knowledge of programming or SEO to use this plugin. We want you to know in a simple way in which position Google ranks you in each country, state or city.
Without entertaining ourselves, we will see step by step how to install and work with the True Ranker plugin for WordPress.
What is True Ranker plugin for?
First of all I have to tell you that this plugin has nothing to do with other WordPress SEO tools like Yoast or RankMath. These tools help you build the SEO on Page of your website through multiple useful features.
True Ranker is a complement to this type of tools. The main functionality of this plugin is that you know your Google ranking in the city or cities that you want. For example, you can find out how your online store is positioned in the United States, India, New York, London, etc.
True Ranker It is an ideal complement to other tools such as Yoast or RankMath
Your position data is automatically updated so you can know the evolution of your website in each city with different search intentions. In this way you can execute different strategies for each city that interests you.
Plugin installation
The plugin can be installed in different ways. I'm going to focus on the two easiest installations for any WordPress plugin. If you have any type of doubt with any other type of installation you can contact with us.
Installation from WordPress.org
Sign in to your WordPress admin panel. Once logged in, navigate to the Plugins -> Add New section..
Enter the word "True Ranker" In the search engine at the top right and press enter.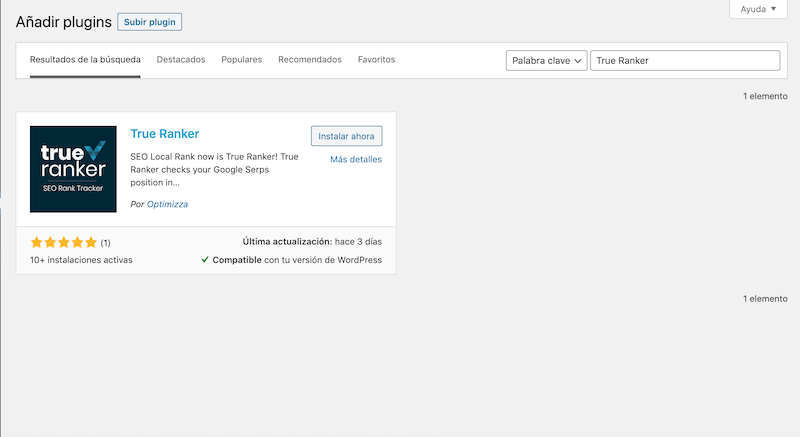 Click on the "Install Now" button to start the installation. This may take a few seconds.
Once the plugin is installed, we activate it by clicking on the "Activate" button.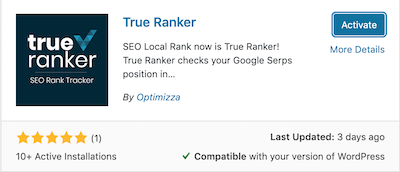 With this step we would already have the plugin installed in our administrator panel. In the navigation menu you can see that it has been added the True Ranker icon. Click on it to start using it.
Download the plugin and install it directly
Another installation option is to download the plugin directly and install it from the administration panel of your website. You can download the latest version of the plugin from its page at WordPress.org .
When you have downloaded the plugin, log into the administration panel of your website and navigate to the Plugins -> Add new section to click on the "Upload plugin" button. Select the file that you just downloaded (seo-local-rank.zip) and click on the "Install now" button to start the installation of the plugin.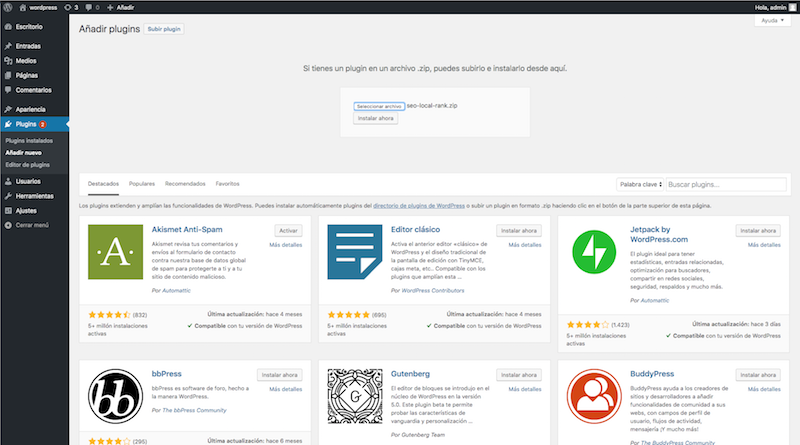 Once you have installed the plugin, click on the "Activate" button to start working with it.
How to start following my keywords in the cities that I want?
We already have the plugin installed and activated to start working with it. In the navigation menu of your administration panel you will see that appears a new section named "True Ranker". Access the section by clicking on it and configure your account in 2 easy steps.
Get my API Key
An API Key is a unique key that is associated with your True Ranker Account. This key will link your website to your True Ranker Account.
To get your API Key enter your email in the field that you will see in the section "1. Activate True Ranker" And accept our terms and conditions of use. By default the system will use the email with which you have logged in to your administration panel. You can delete it and enter the email you want. If you already have an account of True Ranker You will be able to see all the data that you have already tracked from this panel without having to log into the web or the app. Click on the "Start" button and we will send you an email with your API key.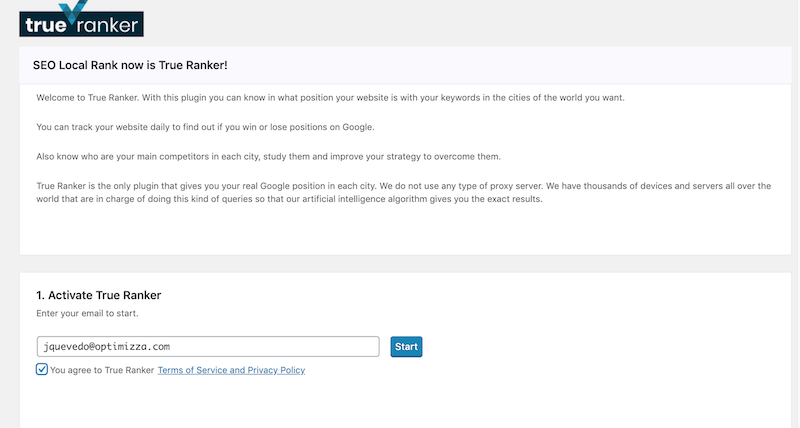 Look in the inbox of the email account you used in the previous step and locate an email from True Ranker. Don't forget to check the folder spam or junk mail if the email doesn't reach your inbox. Please note that sending the email may take a few minutes. Open the email and copy your API Key.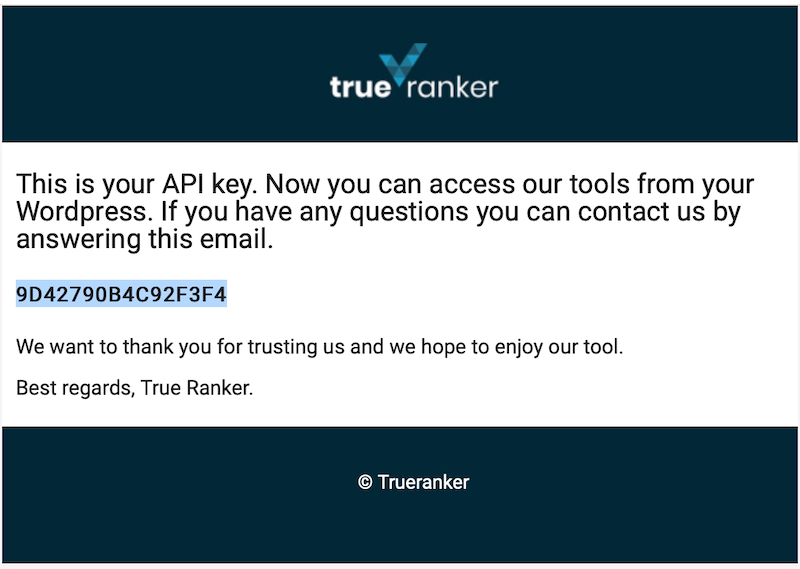 Paste your API Key in the field of the section "2. Insert your API Key" and press the button "Validate API Key". If everything is correct, you will access the True Ranker Menu with all your data. You only have to validate your API Key once. From now on every time you enter the plugin you will have the data of your domains and your keywords.

Add keywords in different cities to know your ranking
Once inside you will access the list of keywords that you have added in your domain (initially the domain is the one of the web where you have installed the plugin). If it is the first time that you use True Ranker this list will appear empty. Click the "Add Keyword" button to start tracking search intentions that can drive traffic to your site.
To add the keywords you want to track, you must fill out the following form.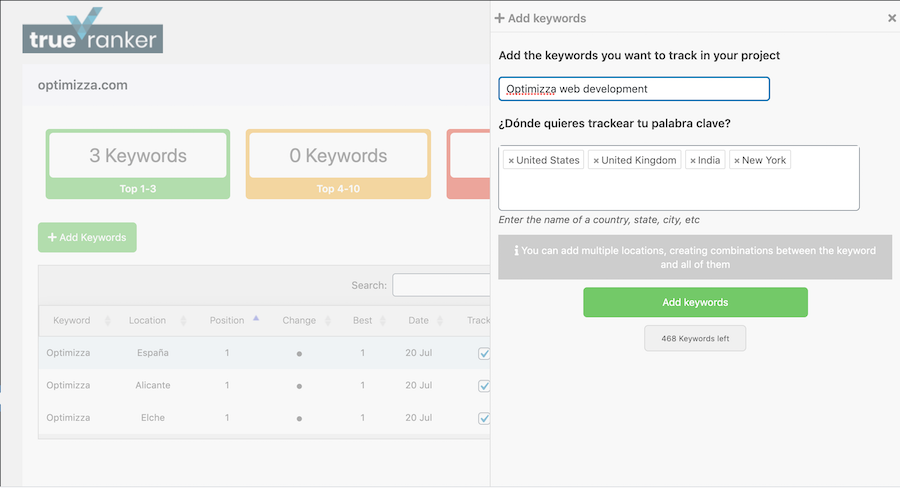 1. Write the term, word or phrase that you consider important for people to reach your site.
2. Enter with the help of our location finder the country, province or city in which you want to keep track of this kw (you can choose more than one location).
3. Press the "Add keyword" button to know the position of your site for the kw you have entered in the selected cities.
Where can I see all the keywords?
The positions of your keywords will appear on the desktop of your project. You will have a table with the general data of each keyword. If you click on each of them you will get specific information about that keyword and its location.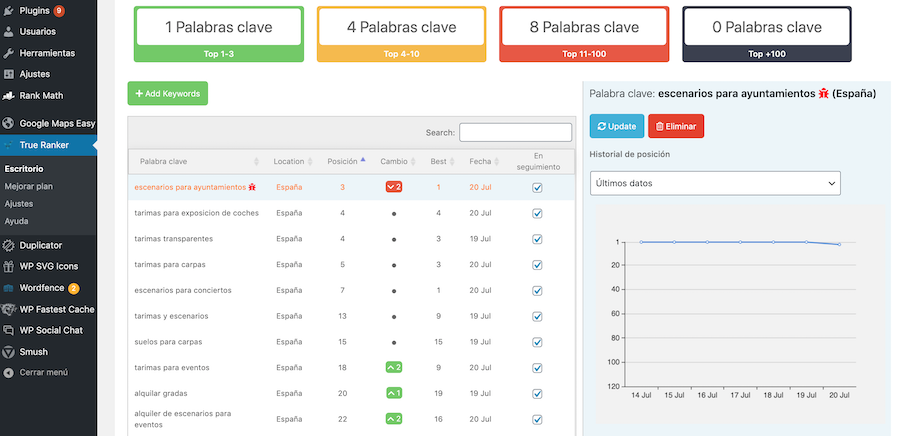 What else can I know about my keywords?/span>
You can see much more data in addition to the exact position in which your website is located for each search intention in each city you choose. You can know what url you are appearing with or who your competitors are and what page is giving you the best result.
You can also know if you are having a possible cannibalization, what has been your best historical position and see the evolution of your positions over time.
Position evolutiony
You can see the evolution of your website for a certain keyword. This graph shows you the ranking of your website over time. With it you can study position changes and see if the strategy you are taking in each city is effective. Make the decisions and make the changes on your website based on the data we offer you.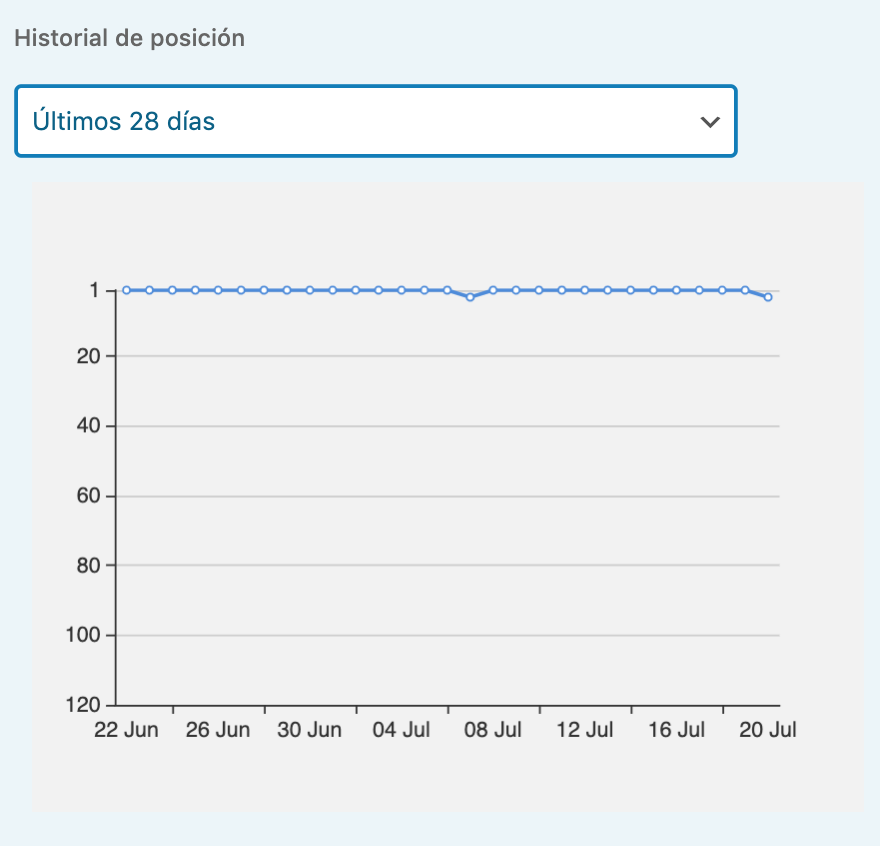 Analyze your best page
Within the analysis that we can do in the data that the plugin collects is the url with which we have a better result. This is a key fact to know on which page we have to work to improve the positioning.

From this data we must work the SEO factors in that specific url to be able to raise positions. In future versions we will have a complete analysis of the content of said page and some guidelines to improve your SEO on page.
Know your competitors
Knowing who are the best results in your niche is very important for any type of business. Have this Information can make you gain an advantage over them by studying the SEO strategies those websites use.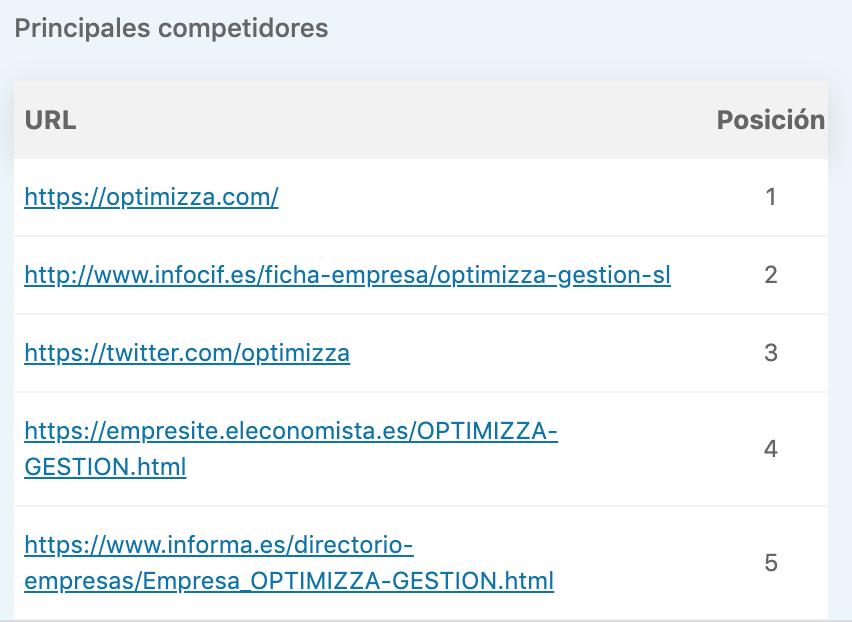 In future versions we will be able to analyze these pages as well as our best positioned page and compare them to be able implement strategies similar to that of our main competitors. We will also introduce features such as the visibility index and the keyword search engine of your domain.
We hope this plugin helps your business grow. We will continue working to add many more features that can help so that your website has a better ranking in Google searches.