Every day people all over the world perform more than 3 billion searches through Google only.
That makes search engines the best way to attract people to your website.
However, if you want to take advantage of that traffic, you have to follow the rules of the search engine and that means optimizing your content with keywords.
Finding the right keywords isn't just a matter of creativity. What you need is access to real data so you can decide which queries are worth following and which are not.
That's the kind of data you can only get by using a keyword planning tool.
In this article we will talk about why you should use a keyword planner as part of your search engine optimization (SEO) strategy.
Then, we will show you how to access the Google Keyword Planner without spending money. Let's do it!
What is Google Keyword Planner?
Before we get into the details of how to use the Google Keyword Planner, let's first understand exactly what the tool is.
Because, although we could use the tool for organic SEO purposes, that is not the reason why Google created it!
Keyword Planner is part of the proprietary advertising platform, known as Google Ads. It gives you the ability to not only research, but also analyze a variety of keyword lists.
The idea is that you can take advantage of these keyword lists when running your pay-per-click campaigns.
In other words, the keyword planner was designed specifically to be a paid word search tool.
However, its data has proven to be extremely useful for organic SEO (Search Engine Optimization) purposes.
Because of the distance between the reason behind the creation of the tool and the way SEOs use it, starting to implement it correctly requires some knowledge.
Google Keyword Planner features
Before going too deep into the details, it is important to understand exactly what the keyword planner can be used for.
This tool is designed with PPC (Pay-per-Click) ads in mind. So, approximately half of what you will see will be geared towards running a successful paid search campaign.
These are some of the main benefits of Google Keyword Planner:
Find new keywords with paragraphs, phrases, websites and categories
Discover search volume trends and historical data for different keywords.
View keyword performance forecasts, based on your budget and average bid prices.
Narrow your results by geographic location, language, and date ranges
Filter results by average monthly searches, competition level, organic impressions, ad impressions, suggested bids, and average organic position
It's worth noting that some of these features are only available if you synchronize your Google Ads account with your Google Analytics account.
For our purposes today, we will keep the features that focus on finding keywords, which you can use to improve your SEO strategy on the page.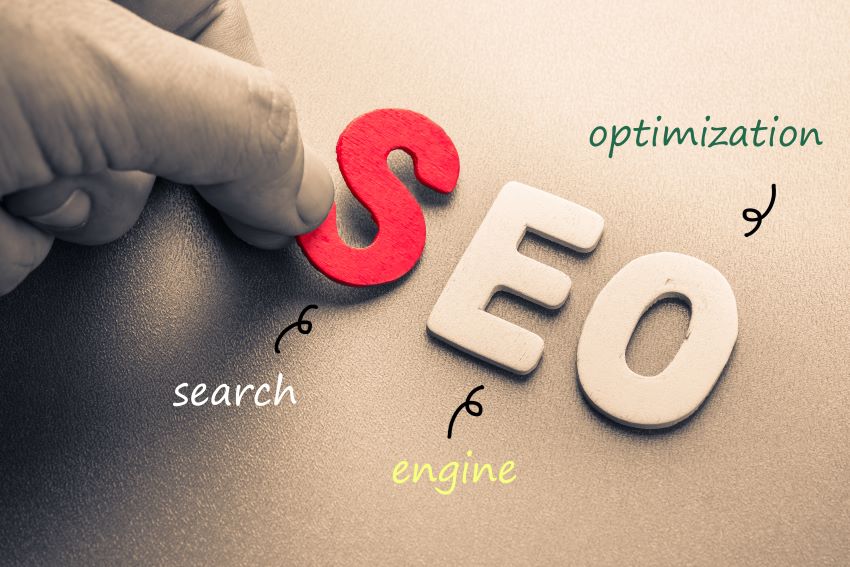 Why should you be using the Google Keyword Planner?
Imagine you want to write an article about preparing fish. However, before you start, you need to make sure there is an audience for it. The best way to do this is to "ask" Google if there is any interest in the keyword "preparing fish".
That's where Google Keyword Planner comes in handy, as it returns a number of suggestions related to the term we're looking for.
For each keyword suggestion, it tells us how many people are looking for it each month, as well as how much competition there is to get it.
You may be surprised to discover that there is a lot of competition when it comes to keywords related to the simple phrase "preparing fish".
Taking a look at all the suggestions Keyword Planner offers, one of the best options would be the one you should choose.
Many keywords have a decent search volume and low competition. In other words, enough people are looking for them and they are worth it, since there is not so much competition that your article simply gets lost among all the results.
At this point, let's recap how using a keyword planner helps us make a sound decision:
We give you an idea and return a long list of keyword suggestions.
It helps us identify which of those keywords have decent potential.
It tells us how fierce the competition will be for each keyword.
Using a keyword planner allows you to methodically approach content creation.
With the right tool you can generate new ideas, examine their potential and decide which keywords you want to target first.
Google Keyword Planner is a free tool and you can access Google data. Something that is unparalleled!
However, it's not the only keyword planner you can use, so don't hesitate to try others.
Use Keyword Planner or other keyword planners?
With Keyword Planner there are many details. Before you get tangled up in all the technicalities, don't get discouraged. Basically, this tool is not that hard to use once you get to know it.
But not all sellers prefer to use Google Keyword Planner as their reference tool for planning their keyword strategy.
You must "learn" the tool, but if you are looking for accurate search volume data and do not have an active Google Ads campaign running, this data will remain blocked to you.
You will only see the search volume ranges, which, for obvious reasons, may not be as effective as the actual volume.
You should keep things in perspective when using the tool and understand where it can help you and where it can't.
Google Keyword Planner is a very powerful and effective tool, but don't forget the fact that it is an integral element in the advertising platform and is very oriented towards paid search.
In other words, the keyword planner should only be one of your reference tools when it comes to keyword research.
As much as possible, explore other available tools to maximize your efforts and investments. These tools will allow you to explore keywords a little more "creatively".
For example, if you like to explore tons of questions, long queues and much more out of the reach of Google Keyword Planner, this is much easier with other tools available on the market.
There is also an overall efficiency to consider, which is why we should use other keyword research tools: so you can manage all your SEO efforts on one board.
Of course, the industry offers a complete set of keyword research tools, which you can use to do exactly that.
The multi-platform keyword research suite shows many more relevant results.
How do I use the Google Keyword Planner?
The use of Google's Keyword Planner is 100% free, it does not require you to spend money.
The same can be said when it comes to getting access to Google Ads, which is what you will need to do to get started.
One important thing to know is that, when setting up your Google Ads account, you should keep in mind that Google can be so "aggressive" that it might seem that you have no way to access the tool without paying.
That is, you may feel that you have to spend some money, to get access, but you don't.
You have to remember that you can always access the tool, without the need to run a Google ad and spend money. Of course, there are some obstacles you have to conquer and overcome to do so.
The Google keyword planner is fundamental and one of the basic tools any SEO should be familiar with.
Keep in mind that this tool is constantly changing and evolving, so make sure you check it from time to time to keep up to date.
We recommend that you sign up for the Google newsletter so that you don't miss out on any feature updates to this tool or any of Google's tools: Google Analytics, Google Keyword Planner, Google Optimize and more.
Keyword research is the foundation of any solid SEO. Make sure your research is focused on the goal at hand so that your content planning is successful.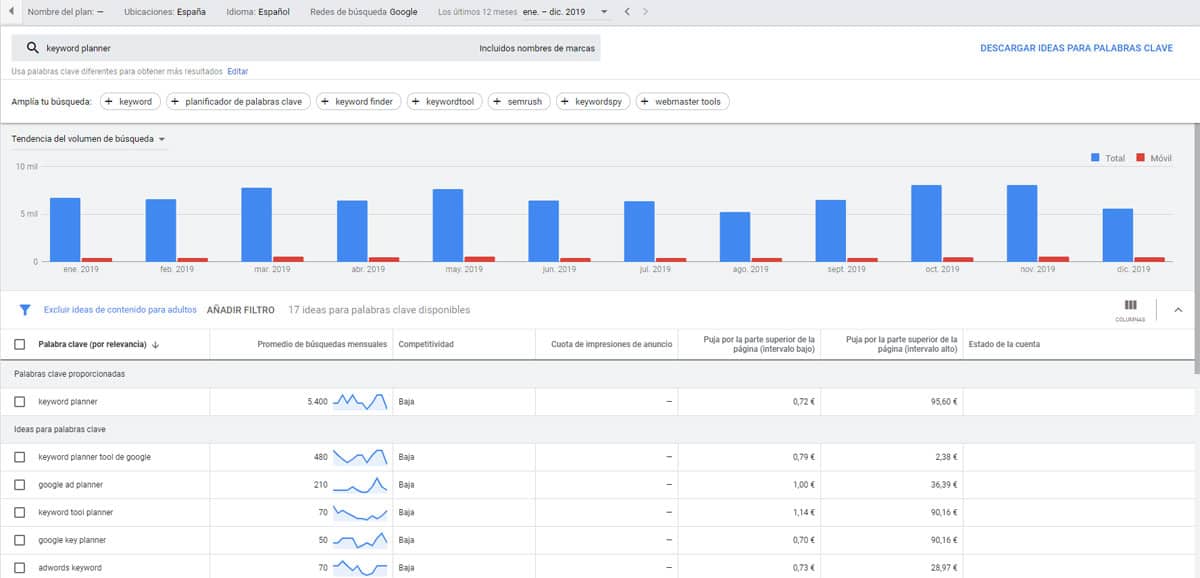 How to access the Google Keyword Planner for free (in just 2 steps)
To use Google Keyword Planner you will need a Google account. Let's go ahead and assume you already have one, to speed up the process:
Step 1: Set up a Google Ads account
Google Keyword Planner is one of the many tools you can find on the Google ad platform.
The idea is that marketers can use it to analyze which keywords to use for their projects.
However, that has not prevented this tool from becoming a favorite for SEO enthusiasts as well.
To access it, go to Google Ads and click on the "Start Now" button. Select the option to set up a new Google Ads account and you will see a new screen.
There is a small link at the bottom of this screen that says "Switch to expert mode", which only appears when you view this page in its entirety. If you don't see it, try resizing your browser until it appears.
Clicking that link allows us to skip a step, as Google Ads usually forces you to create a campaign before offering access to its full set of tools.
Once you click on the link, Google Ads will ask you what type of campaign you want to run. Look for the option line to create an account without a campaign and select it.
Now finish setting up your account, selecting a billing country, time zone and currency.
At this point, your account is ready, so it's time to check out the keyword planning tool.
Step 2: Access the Google Keyword Planner
You now have access to your Google ad panel. If you click "Tools & Settings" at the top of the screen, you'll see a complete list of all the features.
Google Ads is full of features, so you'll probably want to read about how to use it.
However, for now, go ahead and click on the Planning > Keyword Planner option and you'll be on a new screen.
Google Keyword Planner is not that hard to use. To get started, select the "Discover New Keywords" widget.
Then, you can type in as many keywords as you want (separated by commas) and specify which location and language you want to view the data from.
Once you click on get results, you'll be right back where we started at the beginning of this article. Now you can browse lists of keyword suggestions on your own.
As we mentioned earlier, there are two keyword columns you should pay attention to for each keyword. These are average monthly searches and competition.
The other columns are only relevant if you plan to run paid ads, but that is a topic we are not interested in right now.
Finally, keep in mind that search volume does not necessarily mean that you will get those numbers if you target the keywords in question.
You still need to consider other SEO practices if you want to get more traffic, even if it is directed to the right keywords.
All these results tell you that the potential is there. For now, you are ready to start looking for keywords you can use to increase your traffic.
There are many steps to a comprehensive SEO strategy. However, finding keywords with enough traffic to make it worth your while is a crucial part of the process.
Using the right keywords will give your content a much greater chance of reaching a wide audience. The best tool you can use for that job is, without a doubt, Google Keyword Planner.